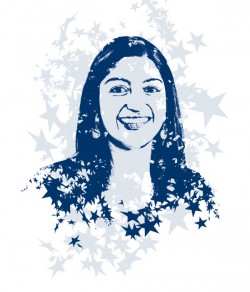 Ms Dharamsi is an outstanding medical student with clear leadership qualities who is committed to empowering and enhancing the quality of life for vulnerable and marginalized populations. She is especially passionate about the many social issues affecting health in Canada and abroad.
For her Bachelor of Science degree she studied the interplay between nutrition and disease, with a focus on international development. She was an outstanding undergraduate who received several academic distinctions and scholarships. In her final year she travelled to rural Guatemala, where she led a team of student volunteers on construction projects in collaboration with local communities and taught oral hygiene, English, science, and math to children. Ms Dharamsi is focusing her current studies on pediatrics and hopes to eventually work with the World Health Organization or Doctors Without Borders.
Committed to making the world a healthier and safer place, she has spearheaded several initiatives. She is the founder and president of the UBC chapter of Meal Exchange – a charity that educates and mobilizes young people to work towards food security and the alleviation of hunger in their local communities – and coordinated efforts to fundraise $56,000 for local food banks. She has also developed high school modules to bring international health issues into the classroom. More recently, she created the We Are 2015 educational initiative, which aims to inspire a new generation of global citizens to make personal contributions towards achieving the 2015 Millennium Development Goals.
Ms Dharamsi balances a demanding course load with a host of other commitments. She has volunteered in excess of 650 hours at Canucks Place Children's Hospice, was the inaugural co-chair for the INNOVATE student conference on technology and sustainability, and is involved with SEVA Canada – a charity that strives to prevent blindness in developing countries, creating high school engagement materials to connect the issue of blindness to current science education.  Alongside these community activities, she is a mentor and tutor in the UBC Learning Exchange's Trek program and the Let's Talk Science program. In these activities she integrates the idea of the importance nutrition plays in learning.
Ms Dharamsi has been recognized with numerous awards including the BC Community Achievement Medallion and the YWCA Young Woman of Distinction Award.