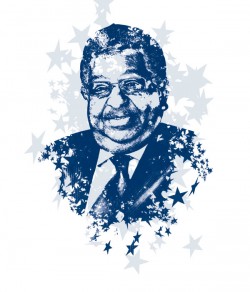 Dr. Haile Debas is internationally recognized for his contributions to academic medicine and global health. A gastrointestinal surgeon by training, he is a forward thinker and natural diplomat who has raised standards for medical education, advanced interdisciplinary research, and established extensive partnership networks to build healthcare capacity worldwide.
Dr. Debas was born in Eritrea, and received his science education at University College in Addis Ababa. He went to McGill University for his Medical Degree, followed by training in surgery at UBC. He started practicing in the Yukon and Northern BC, then joined UBC's medical faculty in 1970, where he stayed for 10 years.
In 1987, he joined the University of California SF, where he revived a struggling Department of Surgery by attracting more federal funding, expanding its scope of activity, and bringing optimism to a despondent faculty. When he became dean of Medicine, he turned his attention to education. By modernizing the curriculum and attracting top educators, he established the university as a much-admired model.
Dr. Debas also transformed science research at UCSF by setting up several interdisciplinary centres to facilitate collaboration. These include the Institute for Global Health, the Comprehensive cancer Center, and the AIDS Research Institute. He is also the executive director of Global Health Sciences – a program he founded that is dedicated to improving health and reducing the burden of disease in the world's most vulnerable populations.
Dr. Debas has served many international organizations aimed at improving global health including the UN Commission for HIV/AIDS and Governance in Africa and the Global Health Council. He has driven the formation of many vital partnerships and is founding chair of the Consortium of Universities for Global Health.
His contributions have led to major changes in outcome for medical students, research colleagues and people underserved by medicine. Dr. Debas has demonstrated extraordinary global leadership and dedication, receiving several honours and awards. In 2001, UBC recognized his commitment to thinking and acting globally by awarding him an honorary Doctor of Science degree.