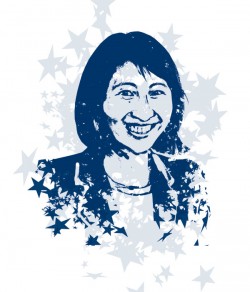 Julia Fan Li is a social entrepreneur with a passion for innovative financing for global health and equal access to medicines for all. Using business as a tool to empower people and improve their quality of life, she is driving responsible and purposeful investment for a fairer world.
Ms Li excelled at UBC, receiving the Dorothy Anne Dilworth Memorial Prize as outstanding female graduate of her year. She went on to start her career as a Chartered Accountant in KPMG LLP's national biotechnology practice.  She subsequently obtained a Master's in Bioscience Enterprise from the University of Cambridge, for which she received a Gates Scholarship. She is now completing her PhD at Cambridge, researching ways the global health ecosystem may better support the discovery, development and delivery of biomedical knowledge, using entrepreneurial approaches. She has been invited to present at many intellectual gatherings on her doctoral research including the prestigious TEDxOxBridge in 2011.
Ms Li has a practical approach to change and her interest in issues of global health and poverty is not limited to research. She co-founded the African Innovation Prize, a UK charity with the goal of combining education with business skills to stimulate university entrepreneurship. AIP implemented the first business plan competition for university students in Rwanda, now impacting more than 20,000 students. Its popularity and success has led to the start of a pan-African business plan competition.  In 2009, Ms Li was invited by the Rwandan Presidential Advisory Council to study the expansion and improvement of operations at King Faisal Hospital in Kigali. She also started the London chapter of LONDON+acumen, supporting principles of patient investing in social enterprises and she serves as a social media ambassador for the Global Business Coalition for Health.
Despite a demanding academic schedule, Ms Li has found time to volunteer for a number of organizations and events, from Habitat for Humanity in Chile to successive Olympic Games in Beijing, Vancouver and London. Her personal drive, intellectual acumen, and ability to engage and inspire others are a powerful combination that will ensure her ongoing contributions to the shaping of our future.