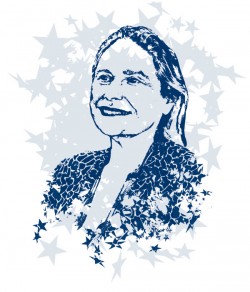 Memory Elvin-Lewis is a microbiologist and ethnobotanist based at Washington University. She has enjoyed a multifaceted career but is best known for her research into the traditional plant-based medical and dental practices of indigenous peoples.
Early in her career, Dr. Elvin-Lewis documented a medical case now recognized as the first known occurrence of AIDS in America. In 1968, because of her expertise with Chlamydia she was invited to culture a teenage boy suffering from a condition that would not respond to treatment.  The complex clinical presentation proved to be the result of a number causes namely the Chlamydia infection, Lymphogranuloma venereum and at his death in 1969, disseminated Kaposi's Sarcoma. These diseases were not fully understood at the time, particularly within his age group and where he lived.  Since these conditions did not account for his compromised immune system, Dr. Elvin-Lewis concluded that an additional viral infection was likely involved and carefully preserved tissue specimens and blood for future analysis. When the linkage between Kaposi's Sarcoma and AIDS was discovered well over a decade later, these specimens were shown to contain a rare early strain of HIV.  Of current significance has been the recent upsurge in coinfections of HIV and Lymphogranuloma venereum  worldwide, providing further credence to the value of this case in tracing the early origins of these disease complexes  in North America.
In the 1970s, in collaboration with her husband, ethnobotanist Walter Lewis, Dr. Elvin-Lewis turned her attention to how plants are used in folk medicine and how this traditional knowledge might be applied to the development of modern pharmaceuticals. Their book, Medical Botany, was the first of its kind to understand the importance of this subject and became a popular text and reference tool. The couple became world renowned for collecting data from indigenous peoples across the globe before precious plant habitats and centuries-worth of observation were lost. What they learned would have applications for oral infections and diseases including, viral hepatitis, tuberculosis and malaria. The couple regarded the indigenous communities as vital partners and developed ways to ensure the equitable sharing of commercial benefits. These practices have been the subject of a number of Dr. Elvin-Lewis' recent publications.
Dr. Elvin-Lewis was the first female president of the microbiology sections of both the American Association of Dental Schools and the International Association of Dental Research and has contributed to a number of Dental Microbiology textbooks.
She has earned many prestigious awards and distinctions worldwide. Among these is the Silver Medal, "Primio Martín De La Cruz" from the Mexican Academy of Traditional Medicine, the Dr. E.K. Janaki Ammal Medal, Society of Ethnobotanists, India, and the Distinguished Economic Botanist, from the Society of Economic Botany.  Honorary degrees have been conferred on her by both Andrews University and UBC.