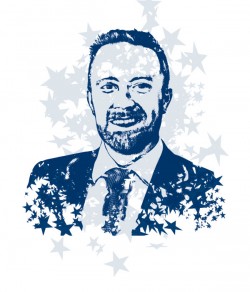 Mr. Watson is a highly successful entrepreneur in the mining industry known for his philanthropy and humanitarian efforts in Africa. His accomplishments in the 11 years since he graduated from UBC with a degree in commerce dwarf those of far more established professionals.
Mr. Watson started his career in the Corporate Finance department at Deloitte. At the age of 26, he became the youngest CFO of any company listed on the New York Stock Exchange when he joined Silver Wheaton Corp. He is now president and CEO of Sandstorm Gold and Sandstorm Metals & Energy, two mining finance companies he co-established and has grown to a market capitalization in excess of US$1 Billion. He is also a director of two other mining corporations.
Mr. Watson is much admired not only for his business prowess, but also his contributions back to the community through multiple philanthropic and volunteer activities. In 2004 he founded the charity Nations Cry to pursue education-based initiatives in Sierra Leone. Last fall, he raised more than $500,000 to support its activities during a one-day charity event. He's also on the advisory board for ARC, a UBC initiative for the exchange of knowledge and business skills between the Sauder School of Business and communities in South Africa and Ethiopia. He is now collaborating with UBC on various executive training programs.
Mr. Watson is often invited to speak at conferences to motivate people into taking responsibility for improving their world. Last year he was a featured speaker at TEDx in Vancouver, where he presented on the issue of charities creating dependence instead of independence, and also represented Canada at the Canada-UK Colloquia on the subject of humanitarian responses in fragile states.
His stellar performance at all stages along his route to success has led to much attention and many accolades. These include his 2006 ranking as one of the Top-40-Under-40 in Vancouver by Business in Vancouver magazine and last year's recognition as one of the Top-40-Under-40 in Canada by the Globe & Mail. This year, he received the Queens Diamond Jubilee Medal. Still only 33, Mr. Watson is destined to achieve far more.