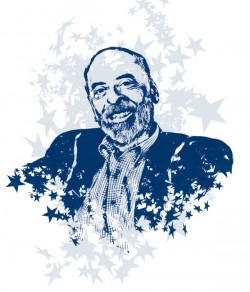 Professor of commerce Peter Nemetz has helped connect the university to the wider community through his 25 year commitment to the highly respected Vancouver Institute lecture series. This century-old tradition is free to the public and attracts hundreds of people weekly in the spring and fall semesters, largely because of Dr. Nemetz' dedication to its programming, publicity, and administration.
Dr. Nemetz' connection with UBC began with his first class undergraduate degree in economics and political science. After attending Harvard for his postgraduate degrees, he returned to UBC to teach in the department of Strategy and Business Economics in the Sauder School of Business. His research interests include energy and resources, the environment, and health and medicine. He has long-standing connections with other academic research bodies, including a 25 year affiliation with the Department of Health Sciences Research at the Mayo Clinic. Invested in the success of his students, he has been nominated for the Commerce Undergraduate Society Teaching Excellence Award nine times, receiving the award once and honorable mention twice. Dr. Nemetz has also served as an elected member of the UBC senate.
As well as his academic and teaching accomplishments, Dr. Nemetz is recognized for his success in connecting the academic community to the general public, particularly in his role as chair of the Vancouver Institute. His ability to engage distinguished and sought-after speakers attracts consistently large and enthusiastic audiences. The Vancouver Institute is part of the intellectual heritage of the university dating from 1916 and owes the latter part of its existence to the efforts of Dr. Nemetz and his colleagues on the executive and council of the institute.
He also grants frequent interviews to the mainstream media — CBC, Boston Globe, and the Financial Post, to name just a few — using his expertise to inform and educate the public on important issues. He has served on task forces for several provincial and federal committees and authored advisory reports relating to energy policy.
From his contributions to policy-making bodies to his enrichment of the intellectual environment, Dr. Nemetz has dedicated many hours to the benefit of his university and to the wider community it serves.