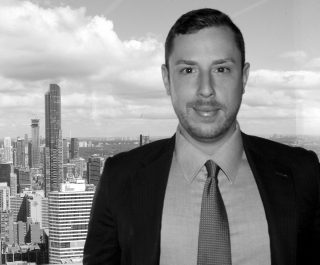 Mixing with the movers and shakers of Canada's financial elite has become part of Evan Weinberg's (BA '08) daily routine, although there's certainly nothing routine about his work. He serves in the prestigious role of Policy and Advocacy Manager for Toronto Financial District, a business improvement association (BIA) representing many of Canada's largest corporations and commercial properties. It has been a steep ascent with its share of obstacles, but he has risen to the challenge and excelled.
In the summer of 2009, just as he was about to begin his second year of a master's in urban planning and development at Ryerson University in Toronto, Weinberg accepted an offer for the newly created full-time position of Planning and Development Manager for Downtown Yonge BIA, created specifically for him. Weinberg said to himself, "I don't know how it's going to happen, but it's such a great opportunity, I'm going to have to make this work." So, for the next year, Weinberg juggled the two competing demands: full-time student and full-time employee. He didn't get much sleep, but he pulled it off.
At Downtown Yonge, Weinberg's work charted new territory. He executed the city's innovative 'Celebrate Yonge' project (Yonge Street is one of the oldest roads in Toronto and the longest street in Canada, essentially the city's original main street). This pilot project looked at building more public space along the street by reducing vehicular traffic and increasing pedestrian access for a few weeks one summer – adding park spaces, patios for meeting and dining, and opening up opportunities for other socially engaging activities. It was one of the first projects implemented by the city which sought to find a balance among various uses rather than simply selecting one use at the expense of another.
Weinberg states, "That was a defining moment for me. I'm proud of the groundbreaking work I did with limited time and resources. It was a paradigm shift for the city as more people in other neighbourhoods have begun to emulate our work. Now, when I wander around the city, I see the tangible evidence of my work being replicated. It feels very fulfilling to know I'm helping to shape the cityscape and having an impact on the city."
Cities, spaces, and people have always fascinated Weinberg, having grown up in ethnically diverse Richmond Hill, Ontario, and his undergraduate studies at UBC Okanagan fed his interest in urban planning even though he hadn't consciously chosen a career path when he began his studies. English, cultural studies, and psychology introduced him to different people and cultures and their diverse perspectives on the world and allowed him to delve into different methods of analyzing and solving problems. Eventually, in preparation for a possible career in urban planning, he also studied statistics and research methodologies to give him a good grounding in evidence-based research techniques. Weinberg says, "This gave me a very useful toolkit of multidisciplinary skill sets, something I consider very important and which I strive to build upon whenever possible."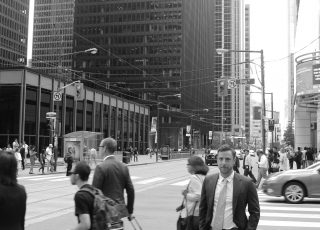 Weinberg's current work at Toronto Financial District is quite different from Downtown Yonge. It's much more policy-oriented. Unlike traditional BIAs which tend to be concerned with 'main street' issues, this organization represents one of the largest employment districts in the country (200,000 people) whose constituency lies predominantly in skyscrapers and whose competitive field spans the globe. As a result, his work focusses on regional transportation access and resilient infrastructure, collaborative planning and investment, and global economic competitiveness.
Weinberg states, "It was quite an adjustment for me. I play a much more public role now. I have to be very knowledgeable about all issues that impact our area, and be very prepared." Weinberg's advocacy function frequently requires him to speak before city managers and councillors where he has to make the case for his organization and the area he represents, which sometimes leaves him open to criticism. He says, "I'm often on camera. And in this age of social media, where everyone is trying to be liked, it can be quite challenging because I don't make decisions based on what's popular online."
How does he deal with being in the hot seat? Growing up, Weinberg's dad – a practical man, he claims – always talked about the return on one's investment. When Weinberg asks himself if he should address an issue or expend energy on a problem, he has to manage what the return on investment is for his organization and the area he now represents. "I have to focus on getting the job done. I believe it's important to base one's decisions on evidence and then work with people to resolve any issues that arise."
Weinberg says he really enjoys bringing together all the different disciplines and people, developing a plan and executing it, collaborating, and managing the relationships and expectations of diverse stakeholders." He states, "I'm proud of my strategic nature and being able to get things done. I just love the process. That's the thing. I just love the whole process."
Story by David Wallace