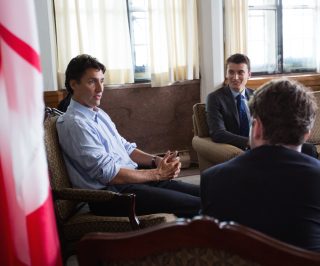 When Tim Krupa (BSc '13) departed UBC's Okanagan campus with a degree in biology, his peers on both campuses named him 'the graduate most likely to change the world'. Aptly, Krupa now finds himself in Ottawa, working on Parliament Hill. How did Krupa make the transition from studying biology to working in the bastion of Canadian political action? It was, to some extent, an awakening.
Since completing his undergraduate degree in biology at UBC's Okanagan campus, he has pursued his master's in political science at UBC's Vancouver campus and is completing his thesis by distance. Currently residing in Ottawa, he works for the Parliament of Canada in the Office of the Leader of the Liberal Party of Canada, Justin Trudeau (BEd '98). Krupa supports Trudeau's tours and outreach as he travels to meet Canadians in all corners of the country, from large urban centres to remote villages in the north.
Krupa has always loved science and, growing up, he dreamed of becoming a physician, a profession that would allow him to improve the well-being of others. He says, "I love scientific principles and I think a rich understanding of science and the universe can help one contribute to society in a meaningful way. UBC Okanagan was my portal to the world of science and ideas, and it was also where I first became exposed to global affairs and public policy."
He relates a period during his undergraduate studies when the thought struck him that perhaps he should consider charting a political course to learn more about global affairs. He was in the Library with a group of classmates, preparing for a midterm on metabolic pathways, when news broke that Hosni Mubarak had resigned from the Egyptian presidency and transferred authority to the country's armed forces. Krupa's attention was immediately redirected. He states, "I was fascinated by the movement and the power of democratic mobilization. Tahrir Square was the voice of the people, and the uprising served as a healthy reminder that politics matter in Egypt, and at home. It sounds trivial, but that was a moment where I realized that my interests may align with issues on a more global scale, ones that could be addressed by public policy."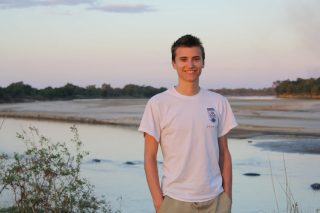 An experience in Zambia represented a major turning point for Krupa. Having travelled there to help create soccer camps for local children, Krupa was struck by the apparent happiness the children displayed despite the obvious high level of poverty. He returned to Zambia the following year to undertake undergraduate research, working under the mentorship of UBC Okanagan psychology professor Mark Holder and supported by an Irving K. Barber Undergraduate Research Award. One of the goals of their research was to explore the determinants of well-being. They felt that improved understanding of happiness and life satisfaction could lead to appropriate interventions – in terms of policy and program development – to promote health. This ignited Krupa's interest in research, which he considers an important element of evidence-based and data-driven policy-making.
Krupa says, "I left Zambia wanting to help clarify principles for designing initiatives and public policy that empower local people and help them thrive. The experience there reoriented my trajectory and goals. I arrived in Zambia intent on pursuing medicine, but departed Zambia yearning to use policy as an instrument to improve well-being. I feel UBC made that experience possible."
The aspiring politician's master's thesis examines carbon-pricing policies and the impact of government policies on human behaviour. He's interested in studying how economic signals can be used to incentivize reductions of undesirable products such as pollution, and generate revenue, allowing governments to reduce taxes on positive outcomes that we want to encourage such as personal income. He says, "Policy innovations like carbon pricing piqued my interest years ago and, given my science background, this was one of those early government initiatives that drew me into the debate and acted as a catalyst for my involvement."
When reminded of the accolade from his peers about being 'the most likely to change the world', Krupa says, "That was pretty inspiring for me because it was selected by my peers. I think leadership is about empowering others, building them up, and developing a team in which the members believe in one another so I thought this honour reflected that sentiment."
Krupa doesn't know specifically where his path will lead him next, but sees himself as a lifelong learner. He says, "I may study law, but I haven't decided yet." Nonetheless, his exposure to the partisanship of Ottawa hasn't tarnished his idealism. He states, "I want a career in policy and in leadership. Today, politics is viewed with immense cynicism and distrust, but I still believe politics, if used properly, can be a tool to improve the quality of life, happiness, and overall well-being of a population. This is the challenge that drives me."
Tim Krupa is the 'city representative' for alumni of UBC's Okanagan campus who live in Ottawa. He is available to help alumni who have recently moved to the area by extending a warm welcome, answering questions of local interest, and connecting them with the broader UBC network. For more information, go to: alumni.ok.ubc.ca/networks.
Story by David Wallace