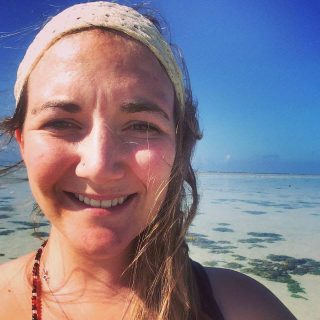 Sondra Eger (BSc' 10), UBC Okanagan biological sciences graduate, has learned to embrace opportunity head-on. After graduation, she set off on a global journey resolute in her goal to gain more experience in her field of study: biology. She didn't realize, however, that it would lead to her discovering her vocational calling: a passionate concern for the conservation and restoration of marine habitats.
A few months after graduating, Eger found herself in a small dive shop in Mozambique being presented with an unexpected job offer. She was on vacation, and taking a diving course. "I was that nerd who got to the dive shop early so I could flip through the fish ID books, trying to learn about all the different species," she says. The dive shop owner admired her enthusiasm and offered her a job in exchange for additional training to become a divemaster. He even offered to set her up with a house on the beach. Eger says, "That was the best way to finish up my African experience. And I've been fascinated with the marine environment ever since. I can't get enough of it."
By "African experience," Eger is referring to the work she had been doing over the previous 10 months. When she left UBC Okanagan, she sought out international internship opportunities, supported and encouraged by UBC Okanagan professors Susan Murch, Karen Hodges, and Mark Reault. Many people trek to Australia or Asia. Eger chose Africa, the path less taken. "I expected to stay for four months, but found myself there for a year, exploring and working on various conservation projects," she says. Receiving some support from the organizations which hired her, and shelling out her life savings, Eger managed to get to, from, and around Africa.
Her journey began with a four-month marine conservation internship in Madagascar where she performed fieldwork in remote coastal communities and learned about subsistence-based fisheries and their reliance upon ocean resources. She then secured a three-month position as a research assistant in Tanzania where she gained insight into wildlife/human conflicts and the importance of educating and promoting awareness among local community members.
Eger is always on the lookout for new experiences. Her first foray into marine studies took place at UBC Okanagan when she travelled to the Bamfield Marine Sciences Centre, which whetted her appetite for the investigation of coastal ecosystems. Then, in her final year, she went out of her way to select two new course offerings – one on the ecology of the African savannah and the other on the global decline of amphibians. The classes were less lecture-based and more oriented toward group work, incorporating multifaceted interdisciplinary discussions which she found immensely fascinating – something which she discovered years later would be vitally important to her. "They also inspired me to travel to Africa almost immediately upon graduation," she states.
Eger's determination, adventurous spirit, and eagerness to embrace life stems, in large part, from some trying personal experiences. Prior to and during her attendance at UBC Okanagan, Eger lost two very close friends to cancer, more than once interrupting her studies to be by their sides and support them. More recently, she helped to care for her grandmothers – both of whom were highly influential in her life – prior to their passing last year. Eger says, "These experiences made me stronger and more inclined to jump at opportunities as they come along. You never know when your life will end or when unexpected challenges will arise. All four of them encouraged me to take chances and to embrace opportunity."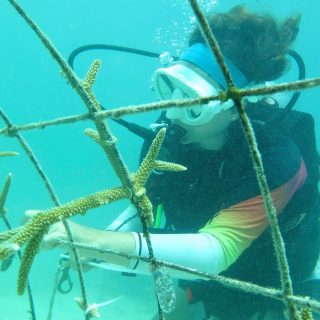 After Africa, Eger leapt at an opportunity to work as a marine biology coordinator in the British Virgin Islands over two summers for a sailing and marine camp for teenagers, teaching and supervising marine educational programs. She offered instruction on local marine life, engaged in scientific research, and performed citizen science projects – surveying reefs and tagging turtles, among other initiatives. "Most of the kids came from privileged backgrounds in the US or Europe, so it was very gratifying to see them change, to become more connected to the oceans and realize how their behaviour there, and at home, can impact the environment," she states.
Eger too was becoming more engaged. Living in coastal communities which rely heavily on marine resources, Eger came to see blatant examples of their overexploitation and misuse. She wondered why existing regulations weren't working, why there was no enforcement. There was a disconnect between local communities and central governments.
She came to recognize, on a local level, that hunger trumps conservation (i.e. if you need food, you will act upon that need). Meanwhile, on a global level, she also grasped that habitats extend over international borders, so effective policy must be coordinated by different governments. She says, "I realized there was a missing link between science and policy, or policy and enforcement. At this point, I was a self-taught marine biologist. I needed to return to school and pursue this further and see where I should focus my efforts for a career so I could make more of a difference on the ground."
Eger realized there was an immense need for people who can bridge disciplines, a need for inclusive decision-making and responsible governance. In 2013, she entered a master's program at the University of Waterloo to study geography and environmental management with a specialization in integrated water management, a collaborative water program. Her thesis, emanating from research she conducted in the Dominican Republic, examines the issues which can ensure effective, on-the-ground conservation efforts and that local resource users are integrated into the decision-making process. "Everything I'm engaged in has been interdisciplinary. It requires me to communicate, literally, in a different language: engineering, chemistry, biology, ecology, and social sciences. All of these perspectives are needed to decide the best course of action."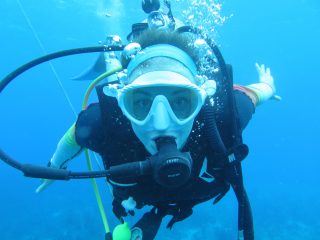 In April of this year, Eger concluded her term as president of the Students of the Water Institute Graduate Section (SWIGS) at the University of Waterloo. She recently travelled to Australia to attend the once-per-decade World Parks Congress – made possible by the support of family, friends, and acquaintances, and funds raised on Indiegogo. She was also one of only 30 people to be invited to attend the WCPA Pre-Congress Capacity Development Workshop for Young Leaders/Professionals which drafted a pact and action plan to address conservation issues. The conference exposed Eger to some intriguing initiatives which could bolster future conservation efforts worldwide: Global Fishing Watch offers online monitoring of fishing activity; and COCOMaps and CoalitionWILD provide online platforms for sharing stories of conservation projects which can inspire young people globally to take action in their own communities.
Looking forward a few years, Eger would like to see more companies integrating unique mentorship opportunities into their organizations, ones which not simply offer guidance to youth, but which allow youth to share their own perspectives with elders. Eger stands poised to be one of those thought leaders.
Sondra Eger was a top-ten finalist in UBC's "your evolution" campaign for a project she submitted. The Bumala Sewing Project, an endeavour she initiated while working in Africa, helps support the development of marketable skills (such as tailoring and small business management) for young African women in their local community.
Story by David Wallace