On November 21st we will honour seven inspiring members of the UBC community at the alumni UBC 2019 Achievement Awards Dinner and Auction, presented by Boyden. Thanks to our generous donors we have been able to assemble a variety of enticing silent auction packages that are sure to draw some friendly competition.
Proceeds from this spectacular evening of celebration will support the Blue and Gold Campaign for Students.
Silent Auction Packages Include:
Luxury Tofino Vacation for Two with Round-trip Flights from Vancouver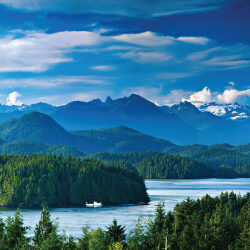 Nestled in old-growth forests and powered by the beat of relentlessly pounding surf, Tofino is a stunning year-round getaway.
Pacific Coastal Airlines will fly you and a guest to beautiful Tofino with a Gold Return Flight Voucher* where you will enjoy a two night stay at the celebrated Pacific Sands Beach Resort, in a one-bedroom oceanside suite†. Take in the beauty of Tofino from your deluxe guestroom at one of the most picturesque surf and whale watching destinations.
*Blackout dates apply. Must be redeemed by Nov 21, 2020.
†Expires December 19, 2020. Not valid June 1-Sep 30, Holidays and Long Weekends.
Donors: Pacific Coastal Airlines and Pacific Sands Beach Resort
Value: $3,400
An Evening with the President!
Lazy Gourmet Catered Cocktail Party for 20 or Wine-Paired Dinner Party for 10 with Santa J. Ono and Wendy Yip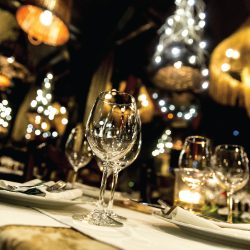 The Lazy Gourmet, Vancouver's premier catering and event planning company, will make your next party truly memorable! Choose between a cocktail party for 20 guests or a wine-paired long table dinner for 10 guests at Koerners Lounge at the Robert H. Lee Alumni Centre.
Here is an opportunity to enjoy an evening of fine wine, food and conversation hosted by you and UBC's 15th President*.  Tuum est!
*Mutually agreeable date. Must be redeemed by November 21, 2020.
Donors: Alumna Susan Mendleson, Kevin Mazzone and Shannon Boudreau, Lazy Gourmet and Santa J. Ono, President and Vice-Chancellor & Wendy Yip, University Ambassador
Value: Priceless
Royal Visit for Two to Vancouver Island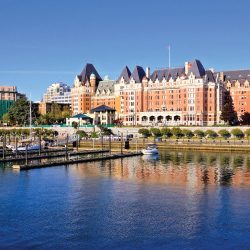 Enjoy a truly royal getaway to British Columbia's capital city and a magnificent stay at the iconic Fairmont Empress Hotel.
You and a guest will start your getaway by flying with Helijet*. While you're visiting Victoria, enjoy a one night stay for two guests, including breakfast, at the newly restored Fairmont Empress Hotel†, one of the oldest and most famous hotels in Canada.
*Must be redeemed by November 30, 2020.
†Valid from November 21, 2019 to November 30, 2020, excluding Fri/Sat in July/August & Dec 24-26 & 31.
Donors: Helijet and Fairmont Empress Hotel
Value: $2,000
It's a Gordon Smith! A limited edition print by one of Canada's finest visual artists!
Gordon Smith continues to paint. The Centenarian has been contributing to British Columbia's cultural life for more than 50 years and is recognized as one of Canada's most creative talents. His work has been exhibited throughout the world in private and public galleries and can be found in museums and private and corporate collections across the country.
This signed, limited edition 52 of 175 Gordon Smith entitled Byway Tangle will be a timeless addition to your collection.
Donors: Alumnus – Gordon Smith, Gail Johnson, Gordon and Marion Smith Foundation
Value: $2,500
Plus:
Luxury Tofino Vacation for Two with Round-trip Flights from Vancouver
Donor: Pacific Coastal Airlines and Pacific Sands Beach Resort
Vanessa Vineyards Wine Library
Donor: Alumnus Howard Soon, Vanessa Vineyards
Let's Travel!
Donor: Worldwide Quest
5′ Cedar Humpback Whale Paddle by Harvey John
Donor: Harvey John
Be Entertained!
Donor: Alumna Wendy Lisogar-Cocchia, Absolute Spa and ChopValue
Double Magnum from Burrowing Owl
Donor: Alumnus Doug Robinson
Dinner and a Show!
Donor: Broadway Across Canada and Minami
Chinatown BBQ Lunch
Donor: Alumna Carol Lee, Chinatown BBQ
34″ Sandblasted Yellow Cedar Hummingbird Panel by Trevor Hunt
Donor: Trevor Hunt
3/8″ 14k Sterling Raven Bracelet
Donor: Joe Descoteaux
Cecil Green Park House Celebration Space
Donor: alumni UBC
Robert H. Lee Alumni Centre Party Space
Donor: alumni UBC
36″ Red Cedar Eagle Panel
Donor: Trevor Hunt
Christmas at Terminal City Club
Donor: Terminal City Club
5′ Yellow Cedar Wolf Paddle by Harvey John
Donor: Harvey John
Christmas with Chor Leoni
Donor: Chor Leoni
2″ Sterling Silver Wolf Bracelet by Joe Descoteaux
Donor: Joe Descoteaux
It's Hockey Night in Vancouver!
Donor: TD Insurance
20″ Edenshaw Glass Disc by World Renowned Glass Artist Terry Starr
Donor: Terry Starr
Higher Learning: Career and Professional Development from Sauder Executive Education
Donor: UBC Sauder School of Business
Beautiful 24″ Raven Mask by David Mungo Knox
Donor: David Mungo Knox
Handmade Bentwood Box by Trevor Hunt
Donor: Trevor Hunt
Luxury Tofino Getaway for Two
Donor: Wickaninnish Inn
Roll the Dice and Win!
Donor: Great Canadian Gaming Corp
Taste of Thai
Donor: Alumnus Angus An, Maenam
Dine and Stay!
Donor: Fairmont Hotel Vancouver
Go Canucks Go!
Donor: Vancouver Canucks
2019 Giller Prize Library of Books
Donor: Scotiabank
Cheers!
Donor: Alumna Grace Li, World Wine Synergy Group
Celebrate the Year of the Rat
Donor: alumni UBC
A Perfect Cup Every Time
Donor: Manulife
Dinner and a Show
Donor: Alumnus Bill Millerd, Arts Club Theatre Company and Hawksworth
Fun for the Whole Family!
Donor: Vancouver International Children's Festival
Treat Yourself
Donor: Alumnus John Evans, OPUS Hotel Versante
Enjoy 2 Super Passes!
Donor: Vancouver Queer Film Festival
Additional auction items will be available to bid on that are not included in this list. Auction package details may be updated on-site.