Presented by RBC Royal Bank
September 25-27, 2020
Watch the Replays
Replays will be available until October 9, 2020.
Okanagan – Homecoming at Home
Vancouver – Homecoming Virtual Celebration
Questions? Please contact homecoming.info@ubc.ca.
In addition to UBC Okanagan's "Homecoming at Home" and UBC Vancouver's Virtual Celebration, we've also put together a full weekend of fun activities for you and your family to take part in. See the schedule below.
Schedule of Activities
All listed event times are Pacific Daylight Time (PDT)
Saturday, September 26th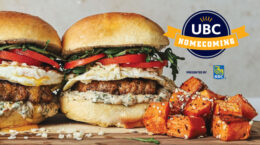 *10:00 am – Virtual Cooking Class in partnership with Fresh Prep – Are you tired of eating the same meals every day or simply looking to learn new cooking skills? Join alumni UBC savings partner Fresh Prep as they guide you step-by-step through a recipe to take your cooking to the next level.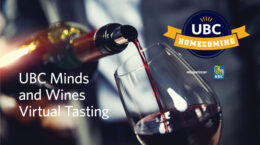 *4:00 pm – UBC Minds and Wines Virtual Tasting – A virtual tasting journey through six Okanagan wines. Learn and sip with UBC Alumni and winemakers in the industry.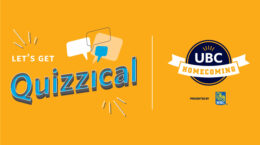 *7:00 pm – Let's Get Quizzical: Homecoming edition – Match wits with your fellow alumni in an online trivia night. Supported by BMO alumni UBC Mastercard.
---
Online Classes and Activities
Available All Weekend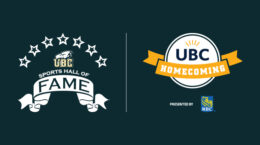 2020 UBC Sports Hall of Fame – Cap off Homecoming Weekend with a celebration of the newest honoured members of the UBC Sports Hall of Fame.  The 5 inductees – Ralph "Hunk" Henderson (athlete), Gerald McGavin (builder), Al Morrow (builder), Annamay Pierse Oldershaw (athlete) and the 1975-76 Thunderbird Men's Volleyball Team join fellow distinguished T-Birds who laid the strong foundation and built the rich tradition for the most decorated varsity athletics program in Canada. Supported by alumni UBC Pillar Partner Manulife.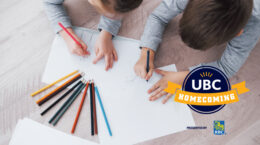 Drawing 101 – Pick up your pencils and crayons! This introductory art session covers basic drawing skills for kids and tweens. Great for the whole family!
Visual Journaling 101 – Tap into your inner self and put your feelings on the canvas. Learn about journaling your daily musings through creative visuals. Ideal for teens and up.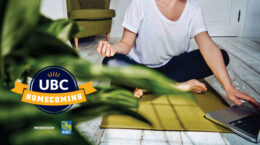 Stretching & Movement: Working from Home – Learn some tips and tricks for optimal movement and stretching while you work from home and at the office to continue your job while minimizing discomfort!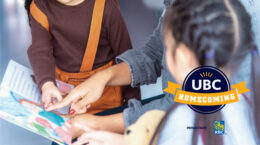 Drag Storytime – This family-friendly Drag Storytime features captivating readings of children's books by local Drag performers, Maiden China, BA'15. and Karmella Barr. Hosted by alumna and author Stephanie Lecce, BEd'16.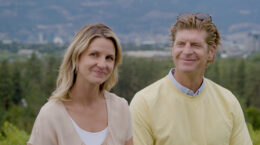 entrepreneurship@UBCO VODCAST: Homecoming Edition ft. Trent & Ria Kitsch – Get inspired in the vineyard with entrepreneurs, Trent and Ria Kitsch, BBA'06. From founding and selling Saxx Underwear and DOJA to Canopy, to building an award-winning home building company and Kitsch Winery, discover their lessons learned on the journey.
---
UBC Attractions – UBC Vancouver campus
Saturday, September 26th-Sunday, September 27th
*A limited number of timed-entry complimentary admissions, generously provided by the attractions, will be available for pre-booking with the Museum of Anthropology, Beaty Biodiversity Museum, the Morris and Helen Belkin Art Gallery, and UBC Botanical Garden. Supported by alumni UBC Pillar Partner TD Insurance.
Plus, enter to win a family day at UBC from alumni UBC Pillar Partner TD Insurance. Closes September 27, 2020, at 11:59 pm PDT.
---
FIFTEEN: UBC Okanagan Alumni Exhibition
September 19 to October 18, 2020 | Kelowna Art Gallery
FIFTEEN features the works of 15 UBC Okanagan alumni in celebration of the campus' 15-year anniversary. Held at the Kelowna Art Gallery, the exhibition will display works of alumni featured in the FIFTEEN art catalogue. Curatorial choices explore a diverse range of mediums including painting, photography, sculpture, printmaking, and drawing.
Alumni will receive complimentary admission at the Kelowna Art Gallery during Homecoming weekend.