Everyone knows that effective networking is the difference between landing a job and landing a great job. Mastering LinkedIn is a significant component to effective networking – especially in today's virtual environment. The LinkedIn Guys Online Masterclass will help you turn your profile into a recruiter magnet and build connections around the world.
This online masterclass is an on-demand, self-paced course that will help you get your LinkedIn profile working for you. The course focuses on the 20% of LinkedIn tactics that drive 80% of career results. Every single technique is demonstrated on-screen, complete with checklists to guide you every step of the way:
Optimize: Turn your profile into a recruiter magnet
Search: Find the right companies, people and roles
Connect: Build an army of supporters and put them to work for you
Network: Get a referral that gets you a guaranteed interview
Win: Leverage insider info to ace your interview and negotiation
Think of it as the manual you wish LinkedIn came with – all visually demonstrated, all updated for the latest version of the website.
Course Fee
UBC Students and Alumni: $10 CAD (regular $99 USD)
Price includes unlimited access to the masterclass. After registering, you will receive your link to access this class within two business days.
Questions? Please contact Mercy Wanalo at mercy.wanalo@ubc.ca.
After registering, you will be directed to an external organization to login to this course. Personal information is collected through this course login will be submitted directly to The LinkedIn Guys and will be used for contact and record keeping related to this course. It is also being shared with UBC, which is collecting it under the authority of section 26(c) of the Freedom of Information and Protection of Privacy Act. We may also use your contact information to update our alumni mailing lists, which are used by both alumni UBC and UBC to keep alumni informed about University news, events and initiatives, including fundraising.  Any questions about the collection or use of this information should be forwarded to alumni.ubc@ubc.ca.
Want to learn more about "Navigating your Career in the Midst of COVID-19"?
Join us for an upcoming webinar where The LinkedIn Guys will share their insights based on experience working with thousands of recruiters and hiring managers in the midst of good times and bad. Learn more here
About The LinkedIn Guys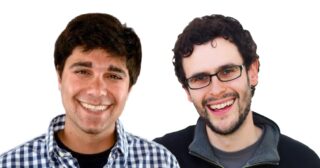 Jeremy Schifeling and Omar Garriott are tech marketers who led LinkedIn's outreach to colleges, students, and alumni for several years – helping millions of people launch and grow their careers on the world's largest professional network. Now they help job seekers of all ages do the same.