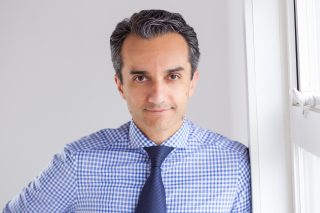 Amir is an entrepreneur who has founded and grown several companies over the 14 years since he graduated from UBC. He is the CEO, president and a director of NYSE-listed Uranium Energy Corp, one of North America's newest uranium producing companies, and is chairman of Brazil Resources Inc., a publicly-listed gold development company. He also serves as a director of a NASDAQ–listed special purpose acquisition company.
Amir is frequently invited to speak before major industry gatherings, including the Milken Institute Global Conference, the World Nuclear Fuel Conference and the Mineral Exploration Roundup in Vancouver.
Fortune magazine included Amir on their "40 Under 40, Ones to Watch" list of North American leaders. Casey Research, a leading investment advisory publisher, recognizes him as a top-ten mining industry entrepreneur and executive. He was a nominee for Ernst & Young's "Entrepreneur of the Year" distinction, and was selected for Business in Vancouver's "Top Forty under 40" list.
Amir has been serving the Vancouver community by supporting organizations that focus on education and social programs, including the Stand Foundation and Union Gospel Mission, where he's been a board member and Capital Campaign executive volunteer, respectively. He helped fund the Union Gospel Mission housing project in Downtown Eastside Vancouver. Uranium Energy Corp and Brazil Resources Inc. both play active roles in the communities in the Americas where they explore, develop and mine minerals.