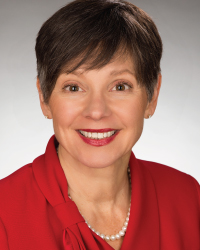 Connie Fair has a BCom and MBA from UBC. She also obtained the designation of CPA, CMA and was named a Fellow of the BC CPA. Connie is a member of the Real Estate Institute of British Columbia and was awarded an honorary designation with the Appraisal Institute of Canada to recognize her work within the professional appraisal community. In 2012, she earned her designation as an Institute-Certified Director through the Institute of Corporate Directors. Connie was named one of Canada's Top 100 Most Powerful Women by the WXN, awarded Top CEO in the Public Services category by Business in Vancouver and a Woman of Distinction in Business and Professions by the YWCA.
At the end of 2020, Connie Fair retired after working almost 40 years in various executive roles in real estate and the public sector. Her most recent position was five years as the President and CEO of the Land Title and Survey Authority of BC (LTSA), a world leader in land-related registries offering online services. Prior to the LTSA, Connie spent eight years as the President and CEO of BC Assessment, where she helped that organization earn a reputation as one of the world's leaders in property assessment. Earlier in her career, Connie worked as a real estate consultant, and was the Associate Director of the Real Estate Division within the UBC's Sauder School of Business Administration.
An accomplished author and speaker, Connie is recognized internationally as an expert in leadership and the innovative application of technology in property valuation, registries and customer service.