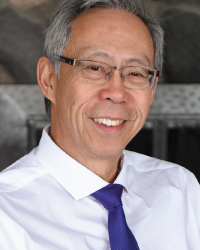 Howard Soon is Master Winemaker at Vanessa Vineyard Estate Winery Inc., who has spent most of his career as winemaker and is well known for sharing his expertise as a collaborator, mentor, and wine educator.
A graduate of the Faculty of Science in biochemistry, Howard spent five years in the brewing industry before steering his creativity in a new direction. For the next 37 years – from 1980 to 2017 – he was involved in winemaking at Calona Vineyards of Kelowna, including as the founding winemaker of the award-winning Sandhill Wines.
His commitment to the industry is highlighted by his volunteer work on various industry and government boards including the Scientific Advisory Board for Grape and Wine Genomics, a research project involving Genome BC and Genome Canada. He is recipient of numerous wine industry awards and was honoured as a Member of the Order of Canada in 2019.
He is an industry advisor at the UBC Wine Research Centre and is a former Faculty of Land & Food Systems Advisory Board member. Howard is a regular speaker and a panelist at UBC events on both UBC campuses and also leads local and international wine tours through the alumni UBC Travel Club program.
In 2020, UBC awarded Howard with an honorary Doctor of Science degree.