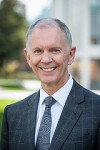 Mr. Gordon has been UBC Chancellor since July 2014. He is an experienced business and community leader, former President and CEO of HSBC Bank Canada, and currently serves on the boards of several not-for-profit and private organizations. As Chancellor he chairs the Convocation and is a member of the Board of Governors, Senates, and alumni UBC.
Mr. Gordon brings a wealth of experience to his role at UBC. Over the course of his career he has been a past Governor of the Business Council of BC, a member of the Canadian Council of Chief Executives, Director of the C D Howe Institute. He also served as Co-Chair of UBC's most recent $1.5 billion Capital Campaign.
He is a past chair of the Campaign Cabinet, United Way of the Lower Mainland of BC, and a past member of the Campaign Cabinet, United Way of Greater Toronto. In 2010 he was the recipient of the B'nai Brith Award of Merit for Outstanding Canadians and a recipient of the 2012 Queen Elizabeth II Diamond Jubilee Medal.