Looking for a casual and delicious night in this fall? Don't miss alumni UBC Around the World: Canada this October, an opportunity to join alumni from across the country for an evening of food, wine, and fun!
Chef Evan Elman, BA'13, founder of Vancouver Private Dining, will kick off the night with a cooking demo where he'll show you how to make a decadent spaghetti carbonara so you can impress your guests the next time you host a COVID-conscious gathering. Evan has been working in professional kitchens near and far since the age of 14, and has accumulated an impressive depth of knowledge and skill that he's excited to share with you.
You'll also have a chance to hear from Montréal-based sommelière Lindsay Brennan, BA'05, who will provide advice for savvy food & wine pairings that will help you elevate your culinary experiences. In addition to her sommelière certification, Lindsay has her own wine import business and is co-owner of two restaurants in Montréal, and looks forward to sharing her story with you.
Your host for the night will be Toronto-based alum Tique Chandler, BCom'16, Founder of Chandler Honey. She will welcome everyone to the virtual space, guide us through this delicious evening, and help bring forward audience questions to our speakers for their expert opinions.
Wherever you may live in Canada, don't miss this opportunity to learn from fellow alumni from across the country as they share their expertise and arm you with some new life skills.
Guests are welcome to cook along with Chef Evan, or simply sit back, relax, and enjoy watching the demo. The ingredient list is available here. Chef Evan will offer recipe substitution suggestions for guests with dietary restrictions.
Presented in partnership with the UBC Sauder School of Business.


Tuesday, October 19, 2021
5:00-6:00pm PDT | 8:00-9:00pm EDT
(Find your time zone's start time here)
Open to all alumni in Canada.
Register by Sunday, October 17th.
Questions? Please contact us at global.alumni@ubc.ca.
Speaker Biographies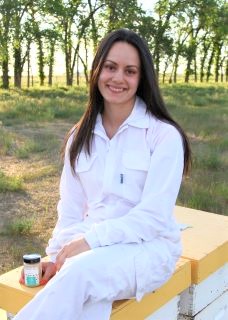 Tique Chandler, BCom'16 (she/her/hers) – Toronto
Founder, Chandler Honey
Tique Chandler grew up in the small town of Scandia, Alberta, on Canada's largest beekeeping operation. She spent her childhood surrounded by bees and learned beekeeping as a teenager, and always thought there was a magical element to honey. She attended UBC Sauder from 2011 to 2016, involved in the Co-op program, JDC West, and 486R with Bob Elton. To this day, her best friends (and husband!) came from her time at Sauder.
Tique founded her business, Chandler Honey, in November 2020. Chandler Honey takes raw honey from her parents' farm and adds a special twist to it by infusing it with natural ingredients, creating unique flavours such as Crème Brûlée, Lemon & Ginger, and Piña Colada honey. Today, Chandler Honey is available at Hudson's Bay, Walmart.ca, and Amazon.ca, and Tique has been featured as a Young Entrepreneur with Shopify.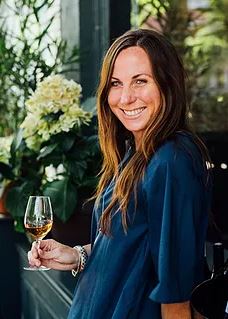 Lindsay Brennan, BA'05 (she/her/hers) – Montréal
Sommelière; Founder, Importations Vin I Vida; Co-owner, Alma and Tinc Set
Lindsay Brennan is the founder of Importations Vin I Vida and the co-owner, with her chef-husband, Juan Lopez Luna, of Alma and Tinc Set in Montréal, Québec.
Importations Vin i Vida is a project that was inadvertently born in the heart of Catalunya. Lindsay took a last-minute trip to Banyuls in the midst of harvest in 2016 and immediately fell in love with the salty, sun-kissed wines and people. The warm September sun, evening swims in the ocean, the anchovies, and most importantly, the wines led to multiple trips between Barcelona and Montréal. Between 2016 and 2017, Lindsay made 7 trips back to Catalunya, attempting to grasp an in-depth understanding of the full cycle of the vine from harvest to harvest. She worked in the vineyards and the cellars of the region's most exciting winemakers, developing incredible friendships, eventually leading to importing the wines to Québec, and to Canada.
Today, alongside the vibrant cuisine of chef-husband Juan Lopez Luna, the wines of Vin I Vida are at the heart of the couple's restaurant Alma, and at their newest project, Tinc Set. Juan and Lindsay spend extended time in Catalunya each January, while the restaurants are closed. Alma and Tinc Set are Canadian destinations for the purest, most energetic, and precise wines of Catalunya.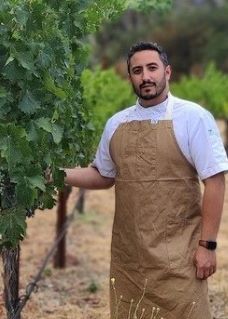 Evan Elman, BA'13 (he/him/his) – Vancouver
Founder & Chef, Vancouver Private Dining
Evan Elman is a young chef hailing from Cambridge, Massachusetts, now based out of Vancouver, BC. Evan began working in professional kitchens at 14, and after graduating from The University of British Columbia (UBC) in 2013, he put academia on the back burner and reignited his passion for cooking.
Evan has traveled to faraway locations as a cruise ship chef in Antarctica and a Sous Chef on the remote island of Haidi Gwaii. Evan has also worked with the Hawksworth Group in Vancouver and orchestrated pop-up dinners in New York City, hosted by Samy Road, and attended by diners from The New York Times, Food & Wine, and Complex Magazine among others.
Evan also worked as the Chef de Partie at Relais & Châteaux's Wedgewood Hotel & Spa, a 5-diamond hotel in downtown Vancouver. Most recently, Evan landed his first Executive Chef position at Dinner in the Sky Canada, which inspired him to create his private dining service, Vancouver Private Dining.