Over the past six months, we've all learned, first hand, that social interactions can be challenging to manage in virtual environments. At the same time, it has also become clear just how important it is for our well-being that we feel socially connected. In these challenging times, we want to help build these important connections between our alumni. Please join fellow UBC alumni in the USA for an online networking event where you'll learn how to build resilience in times of change, while also increasing your social connections. First, hear from Dr. Marie-Helene Pelletier, MBA'06, PhD'02, a Leadership Resilience & Burnout Expert, and Registered Psychologist.
Then, stay online and join fellow alumni for an intimate face to face chat using Zoom breakout rooms. To help you make more connections, you will rotate through different breakout rooms during the virtual networking session.
Presented in partnership with UBC Sauder School of Business.


Host
Andrew Darcovich, BCom'15 – alumni UBC Regional Representative, New York City
Speaker
Dr. Marie-Helene Pelletier, MBA'06, PhD'02 – Leadership Resilience & Burnout Expert, and Registered Psychologist
Tuesday, October 27, 2020
4:00pm-5:00pm PDT
4:00pm: Speaking program with keynote
4:30pm: Virtual networking
5:00pm: Event concludes
Open to all UBC alumni residing in the US.
Registration is required. Deadline to register is October 25th.
Questions? Please contact alumni.events@ubc.ca.
Speaker Biography
Dr. Marie-Helene Pelletier, MBA'06, PhD'02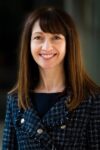 Dr. Marie-Helene Pelletier is a bilingual practicing resilience and anxiety psychologist and experienced senior leader with over 20 years of experience in clinical, counselling, and workplace psychology. One of her key areas of focus is leadership resilience. She holds a Ph.D. in counselling psychology from the University of British Columbia (UBC) and an MBA from the UBC Sauder School of Business.
In her speaking engagements, Marie-Helene works with organizations and groups of all sizes to help improve their health and wellbeing, decrease risk of burnout and increase performance. She brings together research, future trends, and multidisciplinary perspectives to topics related to individual, team and organizational leadership resilience.
Marie-Helene is a Member of the Global Clinical Practice Network of the World Health Organization, past Director on the boards of the Canadian Psychological Association and International Association of Applied Psychology, and past chair of the Board and Director at Dress for Success Vancouver. She has presented and authored and co-authored a number of industry and academic publications and won numerous academic and industry awards, including the Industry Leadership Award from Benefits Canada.
Throughout her career in business management and psychology, Marie-Helene has spearheaded a national dialogue on the crucial issue of workplace health. Drawing on her extensive background in corporate, insurance, governance and public sectors, she brings national and international perspectives and expertise on mental health as a key pillar of overall health.
In addition to her speaking engagements and workshops, Marie-Helene has a psychology practice in British Columbia, working with individuals to address anxiety and mood problems as well as burnout recovery and return to work.