The global event series alumni UBC Around the World continues in July with a virtual event for our alumni across Africa and the Middle East! Join us online for an evening of connections, community, and conversation.
Kenya-based alum Anita Mwango Moragia, BA'15, will be your host for the evening, welcoming you to the virtual space. Mwango is a journalist and storyteller, currently pursuing her passion for telling inclusive growth stories in the Development Communication field. Through her work with The New Humanitarian, an independent, non-profit newsroom reporting from the heart of global crises, she produces global news to inform policy makers and key stakeholders across the Middle East, Asia, Africa and Latin America.
After hearing what Mwango's been up to since she graduated from UBC, you'll have a chance to take part in casual small group discussions using Zoom breakout rooms to give you the opportunity to meet fellow alumni in Africa and the Middle East, reminisce about your time at UBC, and share your own story!
Don't miss this unique opportunity to get to know your UBC alumni community where you live, and continue to build your UBC connections!
This event took place July 6, 2021.
If you live in the region and didn't receive an invite, update your address to make sure you hear about events like this in the future.
Speaker Biographies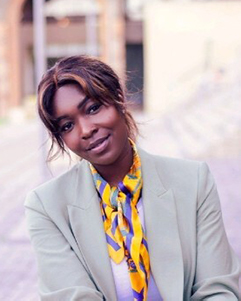 Anita Mwango Moragia, BA'15 (she/her/hers) – Kenya
Development Communication Enthusiast
Anita Mwango Moragia is a Development Communication Enthusiast who is passionate about contributing to inclusive growth stories with a keen interest in using communications to combine multisectoral efforts in pursuing sustainable development goals. As a Development Communication Professional, she currently works for a Geneva-based newsroom to produce global news from the heart of global crises, informing over 320,000 Policymakers, Stakeholders, and Development Practitioners across the Middle East, Asia, Africa and Latin America. Throughout her career working in various media and communication roles around the world, Mwango has secured key interviews with high-profile stakeholders such as South African Influencer and Forbes 30 under 30, Mihlale Ndamase, former VP and COO of the African Development Bank, Dr. Nkosana Moyo, and American record executive and former Destiny's Child Manager, Dr. Mathew Knowles.
In her free time, Mwango enjoys poetry and spoken word, having had the opportunity to perform at various international events across the world including Western Canada's first African Business forum as well as London Business School's Africa Summit in 2018. In addition to her diverse working experience across three continents and four countries, Mwango has also had diverse schooling experiences. She holds a master's degree from the London School of Economics and Political Science (MSc.) and the University of Cape Town (MA.), and a Bachelor's in Political Science from the University of British Columbia.
During her time at the University of British Columbia, Mwango was greatly involved with various campus initiatives, such as The Africa Awareness Initiative, serving as VP Internal and eventually VP External. In tandem with her volunteering, Mwango worked as a Global Lounge Community Animator at UBC's Simon KY Lee Global Lounge, where she led the lounge's programming efforts in executing internal development events and UBC's International Development Conference Week for two consecutive years. During her time at UBC, Mwango was awarded the Simon KY Lee Global Lounge Impact Maker of the Year in 2015, an International Community Achievement Award in 2014 and Outstanding International Student awarded in 2011. Mwango attributes a huge part of her UBC experience to shaping both her personal and professional vision, ethos, and mindset.