BC's child poverty rate is the highest in Canada with close to 1 in 5 children living below the poverty line. For single-parent households, it's nearly 1 in 2. Research suggests that children who have all of their basic needs met from an early age live longer, healthier, and more productive lives, while children brought up in poverty are more likely to be marginalized in adulthood. But there are no easy answers to address this inequality. A higher minimum wage, greater government support, and improved access to affordable housing, childcare, and education have all been cited as part of a possible solution. While something needs to be done, it isn't clear which policy changes would have the greatest impact. What does child poverty mean for our society? Why are so many of our children being left behind? And what will it take for BC to develop and implement a comprehensive poverty reduction strategy?
Official Broadcast and Online Media Partner:

Event Details
This event took place on Wednesday, March 25, 2015 at Creekside Community Centre, Vancouver, BC.
Podcast
Photos
Moderator
Margaret Gallagher – Host, CBC Radio One's Hot Air
Panelists
Kris Archie – Project Manager, Youth Homelessness Initiative, Vancouver Foundation
Janet Austin – Chief Executive Officer, YWCA Metro Vancouver
Kevin Milligan – Associate Professor of Economics, Vancouver School of Economics, UBC
Adrienne Montani – Provincial Coordinator, First Call: BC Child and Youth Advocacy Coalition
---
Panelist Biographies
Margaret Gallagher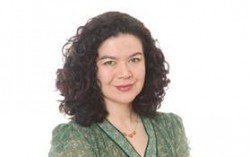 In April 2010, Margaret took the reins as host for CBC Radio One's Hot Air, CBC's longest running radio program.
Margaret has been a regular part of CBC Radio One's The Early Edition since 2001, and was the BC host of CBC Radio 2's Canada Live. Margaret's ability to tune into the city and find stories off the beaten track has taken her up mountaintops, down back alleys, and through the heart of the city.
Margaret has won several awards including two prestigious National RTNDA (Radio-Television News Directors Association of Canada Awards) Dave Rogers Awards for Best Radio Feature.
Prior to joining the CBC, Margaret was active on the arts scene and worked with the Western Front, the Video In and the Independent Film and Video Alliance. She has worked as an editor, a freelance writer, and technical communicator.
Actively involved in community outreach, Margaret has tirelessly donated her time and efforts to many Vancouver events. Her passions include playing ice hockey, food and chasing her rambunctious toddler all over town.
Kris Archie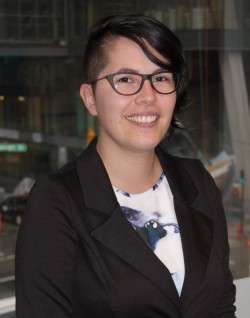 Kris Archie is a Secwepemc and seme7 woman who grew up in small town BC. Her passion for social justice began at a young age with the development of a youth centre in her First Nations community at age 15. Her work as a youth leader led her to various events where she discovered a passion for child rights. In her experience as a young person in foster care, and from her experience becoming a foster parent to her two younger siblings, she learned more about the child welfare system and its impact on families. She worked with the Child and Youth Officer for BC to engage young people in decision making and provide education about child rights. From there moved in a management role with an Aboriginal child welfare organization seeking to increase jurisdiction over their children on Vancouver Island. Her lived and systems based experiences led her to her work with the Vancouver Foundation to better enable young people's transition from foster care to adulthood.  Kris is passionate about helping people understand the importance of shifting the systems, and moving  conversations and awareness building efforts from being focused on the individual to focusing on the system and identifying solutions. She has a soon to be 15 year old son, reads daily to ensure her sanity, loves Survivor and enjoys spending time with her family, at home in the Cariboo or here in the city.
Janet Austin
As CEO of YWCA Metro Vancouver, Janet Austin is responsible for one of BC's largest and most diversified non-profits, delivering services to tens of thousands of people each year in more than 30 locations across Metro Vancouver.
Prior to joining the YWCA, Janet served as executive director of Big Sisters of BC Lower Mainland. She also served as director of development services for BC Housing, where she oversaw the development of the province's social housing for seniors and families, as well as transition housing, homeless shelters and group homes for people with disabilities.
Janet has been an active community volunteer, serving in board and volunteer positions, with a wide variety of organizations. Currently, she serves as Chair of the Vancouver Board of Trade Board of Directors, on the Board of the Canadian Paediatric Society, the Scientific Advisory Board of the Women's Health Research Institute, the UBC President's Strategic Advisory Council and the UBC Community-based Research Task Force, the Healthy City For All Leadership Table, and more.
Janet is a recipient of many awards, including the Business in Vancouver Influential Woman in Business Award, the Vancouver Board of Trade Community Leadership Award, the Queen's Jubilee Medal, and the Big Sisters Big Heart Award for outstanding contribution by a volunteer. In 2008, Janet was mentioned on the Women's Executive Network's list of Canada's 100 Most Powerful Women.
Kevin Milligan
Kevin Milligan is Associate Professor of Economics in the Vancouver School of Economics at the University of British Columbia. He is also a research fellow with the C.D. Howe Institute and a research associate with the National Bureau of Economic Research. Since 2011, he has served as Co-Editor of the Canadian Tax Journal.
He studied at Queen's University and the University of Toronto, receiving his Ph.D. in 2001. His thesis was awarded the 2002 National Tax Association dissertation award.
His research spans the fields of public and labour economics, with a focus on the economics of children and the elderly, as well as other tax and labour market policy topics.
Adrienne Montani
Adrienne Montani is the Provincial Coordinator for First Call: BC Child and Youth Advocacy Coalition.  She has served as the Child and Youth Advocate for the City of Vancouver and as the Chairperson of the Vancouver School Board for three of her six years as an elected school trustee.  For most of her life she has worked in the non-profit, human services field, including as Executive Director of Surrey Delta
Immigrant Services Society and of Big Sisters of BC Lower Mainland.
Her academic background is in Asian studies and adult education.  Adrienne is the mother of two children and has a long-standing interest in the issues of cross-cultural awareness and racism, women's rights and the impacts of social exclusion on children and youth in low income families.  Adrienne has received awards recognizing her advocacy work from the United Way of the Lower Mainland, the Federation of Community Social Services of BC, the Federation of BC Youth in Care Networks, and MOSAIC's Human Rights Award.  Under her leadership, First Call has received awards and recognition from BC's Representative for Children and Youth and the Public Health Association of BC.