After more than a year of collective and focused science and research, the arrival of COVID-19 vaccines has brought hope to billions globally, that brighter days are ahead. However, their arrival has been accompanied by widespread misinformation, amplifying decades of vaccine myths that remain prevalent today, and pose a risk to vaccine confidence and the end of the global COVID-19 pandemic.
As information has become increasingly accessible through new channels like social media, it accelerates the speed at which both fact and fiction can be spread and presents new challenges. What are common vaccine myths, and what is the science behind the truth? How can the public discern fact from fiction? What new tools are governments, public health, scientists, and physicians using to combat misinformation?
Hear from UBC experts from the Faculty of Pharmaceutical Sciences and the School of Biomedical Engineering as they dispel common vaccine myths with science and facts, explore how social media can be utilized to share accurate, evidence-based data, and learn how to navigate through the misinformation to make your own decisions regarding health and wellness.
Presented in partnership with the Faculty of Pharmaceutical Sciences and the Faculty of Medicine




Moderator
Peter Klein – Professor, UBC School of Journalism, Writing and Media, Journalist and Executive Director and Founder, the Global Reporting Centre
Speakers
Dr. Anna Blakney – Assistant Professor, Michael Smith Laboratories, School of Biomedical Engineering, UBC Faculty of Science, UBC Faculty of Applied Science and UBC Faculty of Medicine
Dr. Fawziah Lalji, BSc(Pharm)'90, PharmD'94 – Professor, UBC Faculty of Pharmaceutical Sciences, Tong Louie Chair in Pharmaceutical Sciences
Tuesday, April 20, 2021
12:00 – 1:00pm PDT
Open to everyone. Registration is required.
Questions? Please contact alumni.events@ubc.ca.
Speaker Biographies
Peter Klein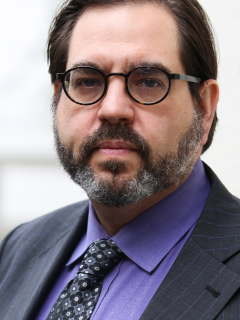 Peter W. Klein is an Emmy Award-winning journalist and full professor at the School of Journalism, Writing, and Media. He is executive director of the UBC Global Reporting Centre, and was director of the school from 2011 to 2015. He is also a faculty associate at the UBC School of Public Policy and Global Affairs.
Klein runs the Global Reporting Program, a year-long course in which he works with master's journalism students from UBC and other universities worldwide to study and practice global reporting. This course grew out of the decade-long International Reporting Program, in which School of Journalism students traveled around the world to work with news organizations including The New York Times, Toronto Star, The Guardian, PBS Frontline, Vice News and Al Jazeera, producing documentary projects that have won awards from most of the major news organizations including the National Academy of Television Arts & Sciences (Emmy for Best Investigation), Society of Professional Journalists (Sigma Delta Chi), Radio Television Digital News Association (Edward R. Murrow), International Academy of Digital Arts and Sciences (Webby Honour), the Online News Association (OJA), Editor & Publisher (EPPY), Canadian Association of Journalists (CAJ), Digital Publishing Award, and Canadian Online Publishing Award.
At the Global Reporting Centre, Klein oversees long-term investigative reporting projects, including Hidden Costs, a SSHRC Partnership-funded initiative that uses data, field reporting, academic research and artistic exhibits to examine the hidden costs of global commerce. He was co-investigator on a CIHR-funded project looking at expensive drugs for rare diseases, through which he and his students produced Million Dollar Meds, an award-winning multimedia documentary, as well as a CBC Ideas episode.
In 1999 Klein joined CBS News 60 Minutes as a producer. He continues to contribute to the venerable American news program, and is also a regular contributor to The New York Times' Retro Report series, which examines old news stories from new perspectives.
He began his career as a reporter for public radio and The Christian Science Monitor, covering the Bosnian war and the 1994 invasion of Haiti, and he has covered war zones around the world. In 1995 he was one of three founding producers of New York Times Television, a pioneer of small-format TV newsgathering. He was senior producer of I-Witness, an 18-hour documentary series for CBS News in which video journalists spent months in the field covering a single topic, and he went on to film, edit, and produce his own news documentaries, spending as much as a year shadowing his subjects for ABC News Nightline specials. He was creator and executive producer of the History Channel documentary series, Beyond Top Secret, which investigated clandestine operations around the world and earned numerous Emmy nominations, as well as mentions in The New York Times and on The Daily Show with Jon Stewart. From 2009-2010, he was the host of the national Canadian television program The Standard, in which he conducted interviews with global newsmakers.
In addition to an Emmy for a Frontline documentary with his UBC students, Klein won on an Emmy for his 60 Minutes investigation with Mike Wallace into the former Soviet Union's smallpox weapons program, and shared an Emmy for a documentary about global health. He was a Rosalynn Carter Mental Health Journalism fellow at Emory University (researching suicide amongst genocide survivors), and an Ochberg Fellow at the Columbia University's Dart Center for Journalism and Trauma (research PTSD amongst journalists). He received the 2011 UBC President's Award for Public Education through Media.
Klein has previously taught at Columbia University's Graduate School of Journalism and New York University's Department of Journalism. He has an MS in Journalism from Columbia and a BA (honours) in Philosophy from Pennsylvania State University, with specialized honours degrees in Economics and in Science, Technology and Society.
Dr. Anna Blakney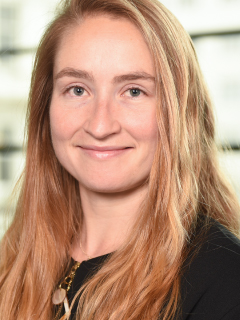 Dr. Anna Blakney is an Assistant Professor in the Michael Smith Laboratories and School of Biomedical Engineering at UBC. She received her BSc in Chemical & Biological Engineering from the University of Colorado at Boulder, and her PhD in Bioengineering from the University of Washington. She completed a postdoctoral fellowship at Imperial College London on the development of molecular and biomaterial engineering strategies for delivery of self-amplifying RNA, under the supervision of Prof. Robin Shattock and Prof. Molly Stevens.
The Blakney Lab is a multidisciplinary group of engineers, immunologists, and molecular biologists investigating the interactions between RNA, biomaterials, and the immune system to prevent and treat disease. We aim to gain a deeper understanding of how the components of gene delivery formulations interact with the immune system in order to improve the potency and enable clinical translation. We use a variety of biochemical assays, RNA formulation approaches, nanoparticle characterization methods, imaging platforms and cell culture, human explant and animal models for our research.
To learn more about Dr. Blakney's research, please visit Google Scholar.
Dr. Fawziah Lalji, BSc(Pharm)'90, PharmD'94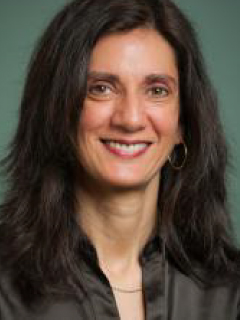 Dr. Fawziah Lalji obtained her Bachelor of Science in Pharmacy and Doctor of Pharmacy at UBC. She subsequently completed a fellowship in infectious diseases pharmacotherapy at the Vancouver General Hospital. She is a Professor and Tong Louie Chair in the Faculty of Pharmaceutical Sciences at UBC. After graduating she practiced pharmacy in both the acute care (hospital) sector and public health (at the BC Centre for Disease Control) sectors.
Applied research around the population and public health of communicable diseases has been the focus of Dr. Lalji's research for most of her career. Her work focuses on health outcomes associated with immunizations and antimicrobial stewardship, using British Columbia's administrative databases. The Lalji lab's past projects include antivirals in preventing hospitalizations during the H1N1 pandemic, prevention of zoster infection, and use of antibiotics and development of asthma in children. Presently, her work focuses on the appropriateness of antibiotic use for common infections, such as urinary tract and respiratory tract infections, and projects centred around pneumococcal disease prevention in British Columbia. Dr. Lalji collaborates with researchers across the country and has been a recipient of many awards. She has published over 200 peer-reviewed papers, book chapters and research abstracts in prestigious medical journals.