When Suzanne Simard's doctoral research was published in Nature in 1997 it was seen as radical. She had discovered that trees communicate underground through webs of fungal filaments, and that they are in constant and helpful contact with each other.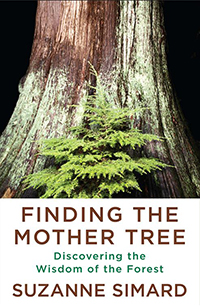 Today these discoveries are widely accepted, and over the years Suzanne has continued to create new knowledge about how trees support and look after each other to keep the forest healthy.
Mother trees are typically the biggest trees in the forest, and Suzanne's research has shown how they nurture their seedlings and alert them to potential threats, acting as the focal points of a caring forest society.
In her recent book, Finding the Mother Tree: Uncovering the Wisdom of the Forest, Suzanne distills over 25 years of scientific research while also telling her own fascinating story as a woman challenging accepted practices in a male-dominated field.
The book immediately became a New York Times bestseller, and has received widespread praise in scientific and literary communities. It is currently being adapted into a film starring Amy Adams as Suzanne and featuring Jake Gyllenhaal in a leading role.
In partnership with:


Wednesday, December 1, 2021
12:00-1:00pm PST
Please note this event was originally scheduled to occur over UBC Homecoming weekend September 2021.
Open to everyone. Registration is required.
Questions? Please contact alumni.events@ubc.ca.
Featured Speaker
Prof. Suzanne Simard, BSF'83
Prof. Suzanne Simard, BSF'83, is a Professor of Forest Ecology in the UBC Faculty of Forestry and the leader of The Mother Tree Project. She holds a PhD and MSc in Forest Ecology from Oregon State University and a BSF in Forest Resource Management from UBC. Suzanne has published over 200 peer-reviewed articles and presented at conferences around the world.
Order the Book
The book Finding the Mother Tree: Uncovering the Wisdom of the Forest is available now. Find the links to order it on Prof. Suzanne Simard's website or purchase it at the UBC Bookstore. You can also learn more about the Mother Tree Project here.