Want a preview of what your future may look like? How are your aging parents or grandparents living their elder years?  Will you age the same way? While aging is inevitable for us all, there are steps we can take to help our loved ones, and ourselves, lead longer, healthier, and more independent lives. Hear from UBC Faculty of Medicine Executive Associate Dean Roger Wong and Professor Janice Eng, as well as UBC alumni and friends in Hong Kong, as they have an important conversation about healthy aging. Learn about new technologies that can make homes safer, as well as simple solutions for improving socialization and combating loneliness in seniors.
This program took place June 19, 2018, at Club Lusitano in Hong Kong.
Podcast
You can also watch Roger Wong's original TEDx Talk.
Photos
Host
Ignatius K.K. (Iggy) Chong, BCom'82, CFA – Member, alumni UBC Advisory Council; Chair, Hong Kong alumni UBC Leadership Council
Speakers
Janice Eng – Professor and Canada Research Chair, Department of Physical Therapy, UBC; Director, Rehabilitation Research Program, Vancouver Coastal Health Research Institute
Roger Wong – Executive Associate Dean (Education), Faculty of Medicine, UBC; Clinical Professor, Division of Geriatric Medicine, UBC
Speaker Biographies
Janice Eng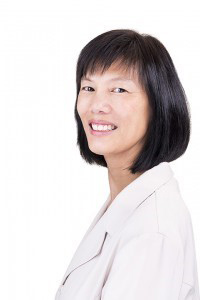 Dr. Janice Eng is a Professor and Canada Research Chair in the UBC Department of Physical Therapy at the University of British Columbia and is the Director of the Rehabilitation Research Program of the Vancouver Coastal Health Research Institute. She studied as an undergraduate at UBC in the combined Physical Therapy and Occupational Therapy (PT/OT) program. At the masters level, she studied at the University of Toronto, graduating with an MSc in Biomedical Engineering. Lastly, she completed her doctorate in Kinesiology at the University of Waterloo. Dr. Eng also completed her post-doctoral training in Neurophysiology at Simon Fraser University.
Her research includes mechanistic studies (movement, muscle, bone, brain imaging, cardiovascular fitness) in people with stroke, spinal cord injury and chronic disease and extends to randomized controlled trials to improve mobility, physical activity, upper and lower limb motor recovery, chronic disease self-management and quality of life. Dr. Eng extends implementation research, to move proven research into communities that would best benefit from it. Two of her programs, GRASP for improving arm and hand function and FAME for improving fitness and mobility, are used in over 1500 sites in 40 countries.
Dr. Janice Eng is a well-renowned and award winning UBC Faculty member, her recognitions include; Tier 1 Canada Research Chair; recipient of the Women of Distinction from the YWCA; Jonas Salk Award for Lifetime Achievement; and a Killam Research Prize recipient, to name just a few.
Roger Wong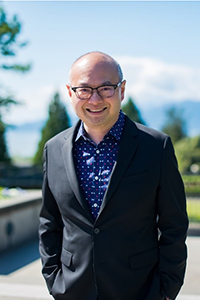 Dr. Roger Wong is Executive Associate Dean of Education, within UBC's Faculty of Medicine as well as Clinical Professor in the Division of Geriatric Medicine, Department of Medicine at UBC. Dr. Wong is also Consultant Physician of the Geriatric Consultation Program, Vancouver General Hospital.  He has served as the 13th President of the Canadian Geriatrics Society.
Dr. Wong is a world-renowned advocate and educator for advancing senior care and well-being. He works tirelessly to advance academic and clinical health sciences related to geriatrics, and his work has significant impact on the care for older people in Canada and beyond. He founded the state-of-the-art Acute Care for Elders Units (ACE) in Vancouver, which has been implemented nationally and internationally. His clinical research focuses on hospital medicine in vulnerable older adults, including quality improvement in acute care geriatrics. Dr. Wong has published and lectured extensively on geriatric medicine and medical education and has received numerous awards of appreciation from the Alzheimer Society of British Columbia to recognize his advocacy work in the community.