Want to impress family, friends, or guests who have a soft spot for sweets? Here's a delectable way to expand your dessert repertoire while connecting with UBC alumni. Hong Kong Alumni Fun Baking will get participants ready for the holiday season with two sessions to be held on December 19th.
The first session is family-friendly, for parents and children over 5 years of age who want to indulge in the enjoyment of making fruit tarts, while the second is designed to divulge delicious secrets about baking a Black Forest Gâteau Cake.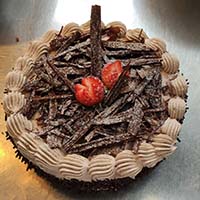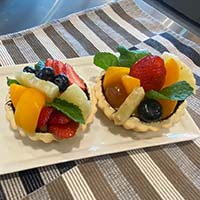 Both sessions, to be held in person, are timely opportunities to prepare for merrymaking and year-end socializing. Participants can choose one of the two time slots but space is limited so register early to avoid disappointment.
Due to limited capacity, adult attendees must be UBC alumni.
Sunday, December 19, 2021
Shun Hing Cooking Centre
20/F Sino Cheer Plaza,
23-29 Jordan Road
Kowloon, Hong Kong
Session 1:
12:00-1:30pm HKT
Fruit Tart
Parent-child interaction session. Children 5 years old and above are welcome to attend. Maximum two people per family (one parent, one child).
Session 2:
2:30-4:30pm HKT
Black Forest Gateau Cake
*The Black Forest Gateau Cake session is currently full. We will be taking a short wait list in case additional spaces become available. Please contact meimei.yiu@apro.ubc.ca to be added to the wait list.*
Open to all alumni in Hong Kong. Registration is required.
The event is free, although a deposit of HK$200 per participant (including children) is required to confirm your participation. Your deposit will be refunded at the event.
Please make your deposit payable to:
alumni UBC Hong Kong
Shanghai Commercial Bank
Checking account 352-82-04737-9
Please send the deposit slip to meimei.yiu@apro.ubc.ca, and please mark your full name and "baking" on the deposit slip.
The maximum capacity is 20 people per section (two people, comprising one team, will share one working station). Participants should arrive at the cooking centre 10 minutes before the class commences.
If you register for this event, and have an unavoidable change to your schedule that prevents you from attending, please notify meimei.yiu@apro.ubc.ca of your cancellation as soon as possible. Any cancellations must be received a minimum of three business days prior to the event date.