What is the key to happiness? Is it family relationships? Wealth? Job satisfaction? Helping others? Perhaps we need to spend more time in nature, and less time in cities. And is happiness a universal feeling, or are there significant differences in the experience of it based on culture, age or other factors? There are so many ideas about where happiness comes from, yet many of us still struggle to find it. Are some people simply hardwired to be happy and others not, or is it a state of mind that can be consciously pursued?
Official Broadcast and Online Media Partner:

Special thanks to our webcast partner:

This sold-out event took place May 25, 2015, at Van Dusen Garden in Vancouver, BC.
Podcast
Photos
Moderator
Shiral Tobin – Producer of CBC's The Early Edition
Panelists
Elizabeth Dunn – Associate Professor, UBC Department of Psychology
John Innes – Dean, UBC Faculty of Forestry; Forest Renewal BC Chair in Forest Management
Holman Wang, BEd(Elem)'95, MASA'98, LLB'05 – Children's Author and Illustrator
Jiaying Zhao – Canada Research Chair in Behavioral Sustainability; Assistant Professor, Department of Psychology and Institute for Resources, Environment and Sustainability, UBC
Panelist Biographies
Shiral Tobin
Shiral Tobin is the Producer of The Early Edition. She has been a radio producer and broadcaster since the mid 1990's, covering everything from politics to dogs. She produced Rafe Mair's talk show for many years. And since arriving at CBC in 2001, Shiral has held several positions, including regional radio reporter, relief host, and producer and both local and national programs. Shiral has been lucky to be part of many award-winning broadcasts. Born and raised in Vancouver, then Kelowna, Shiral is a true hometown gal and thankfully, an early riser. Shiral has a BA from the University of Victoria (English-Hispanic studies) and is a graduate of BCIT's broadcast journalism program.
Elizabeth Dunn
Dr. Elizabeth Dunn is the author of Happy Money: The Science of Smarter Spending, co-authored with Mike Norton at Harvard Business School. Dunn is an associate professor in the Department of Psychology at the University of British Columbia, where she conducts original research on self-knowledge and happiness. Her work has been featured in hundreds of media outlets, including The New York Times, The Globe and Mail, and The London Times, and has even been cited in policy papers by David Cameron's administration in the UK. Two empirical papers were recently published in Science. Dunn has spoken at PopTech! and was selected as a Chronicle of Higher Education "Rising Star" in academia.
John Innes
John Innes is Dean of the Faculty of Forestry at UBC. He grew up in Scotland and went to Cambridge University (in England). After working for the UK Forestry Commission for a while, he moved to Switzerland and worked there for 7 years. In 1999, he moved to UBC, having never previously been to British Columbia, where he took up the position of FRBC (Forest Renewal BC) Chair of Forest Management. He became Dean of the Faculty of Forestry in 2010. His research has covered a wide range of topics, including climate change, slope stability, forest management, the effects of forests on human well-being, and forest-dependent communities. As Dean, he has been encouraging the establishment of a new program at UBC in urban forestry. While much forestry has the aim of providing timber for a variety of uses, urban forestry is completely different: its most important product is the happiness of urban populations.
Holman Wang, BEd(Elem)'95, MASA'98, LLB'05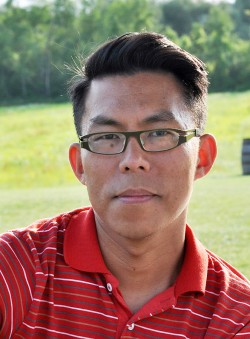 Holman grew up in Vancouver, Canada, and was briefly a middle school teacher. He doesn't do that anymore. Holman also spent seven years in the legal world as a commercial litigator. He definitely doesn't do that anymore. He's had a circuitous professional career, including stints teaching ESL, selling textbooks, working in the marketing department of a large theatre company, and guarding Canada's borders as a Customs Inspector.
He has a bachelor of science from the University of Toronto, as well as an education degree, a master's degree (architecture history) and a law degree from the University of British Columbia. Since late 2012, Holman has worked full-time as a children's author and illustrator with, ironically, a toolkit of entirely self-taught skills in needle-felting, model making and photography.
In 2001, his first foray into the publishing world came out in the form of a non-fiction coffee table book on the history of everything in your bathroom entitled, appropriately enough, Bathroom Stuff. It was published by SourceBooks. Holman's work has been featured in newspapers and on TV and radio, including NPR and the CBC.
Holman still lives in Vancouver with his lovely wife, Amy, and their 5-year-old daughter and 3-year-old son. When he's not making books, he can be found playing mediocre ice hockey or even worse guitar.
Jiaying Zhao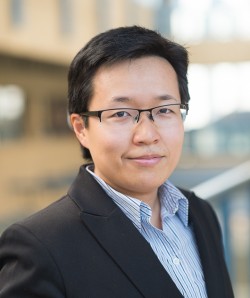 Jiaying Zhao is the Canada Research Chair in Behavioral Sustainability and an assistant professor in the Department of Psychology and the Institute for Resources, Environment and Sustainability (IRES) at UBC. Her work is motivated by the fact that human behavior is not only governed by internal cognitive processes, but also influenced by a rich set of external, environmental factors.
One area of focus in her lab is to understand how the physical environment influences our subjective wellbeing. They are currently building a wellbeing map of UBC by collecting people's subjective wellbeing reports across the Vancouver and Okanagan campuses, which will allow them to not only visualize which areas on campus are associated with high levels of wellbeing, but also understand which environmental factors determine wellbeing. Another area of focus examines how resource scarcity consumes cognitive bandwidth and leads to suboptimal behaviors that further perpetuate the condition of scarcity. The goal is to develop cutting-edge interventions using behavioral insights to alleviate the cognitive burdens imposed by scarcity, and to promote subjective wellbeing, resource conservation, and environmentally responsible behavior.