Considering entrepreneurship as a potential career direction? Join fellow UBC alumni and students for a special afternoon session where we'll hear from a panel of distinguished women who will share stories from their entrepreneurial journeys. Hear about mistakes they made and some of the lessons they learned along the way. Success doesn't come easily, so find out what it took for these remarkable entrepreneurs to get to where they are now. Don't miss this opportunity to build your network and your career confidence, while exploring whether entrepreneurship could be the right path for you.
Presented in partnership with:

This event took place January 29, 2020, at the Robert H. Lee Alumni Centre on UBC's Vancouver campus.
Moderator
Noelle Wang – 4th Year UBC Bachelor of International Economics student
Panelists
Betsy Ng, BSc'10 – Co-Owner & Founder, Elephant Garden Creamery
Gerri Sinclair, BA'68, PhD'76, DSc'02 – Managing Director (Vancouver Office), Kensington Capital
Valerie Song, BCom'14 – CEO and Co-Founder of AVA Technologies Inc.
Michela Toscano, MBA'12 – Principal, IONICA
Podcast
Speaker Biographies
Noelle Wang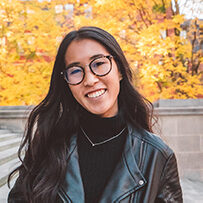 Noelle Wang is a fourth year Bachelor of International Economics student. Passionate about entrepreneurship and diversity and inclusion, she currently works at as a Gender Analyst at the University Industry Liaison Office (UILO) researching gender inequality in academic entrepreneurship. In addition to her work at the UILO, she worked as a Business Development Specialist & Data Analyst at entrepreneurship@UBC, supporting ventures at UBC with various projects to accelerate their businesses. Her work experience led her to joining Creative Destruction Lab – West as a student analyst within her coursework, and currently consults for a health science company. This year, she was a chosen delegate from UBC to attend Harvard University's International Business Conference: Gender Equality in the Workplace, to support her research for the UILO and studies.
Betsy Ng, BSc'10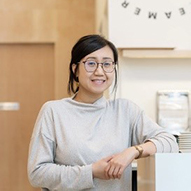 Betsy Ng is the founder and co-owner of Elephant Garden Creamery (EGC) and Food Science Alumna from UBC's Faculty of Land and Food Systems. A sweet tooth foodie with a multicultural palate, Betsy previously worked in quality assurance and research & development in various food companies, prior to opening the local artisan ice cream shop.
Located on Commercial Drive, the shop features unique and creative flavours that are handcrafted and culturally inspired to reflect Vancouver's diverse multicultural community. The menu features the "classics" with a slight twist, and rotating flavours each month, served in a space that embodies elements of natural greenery and modern minimalism.
Gerri Sinclair, BA'68, PhD'76, DSc'02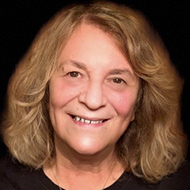 Gerri Sinclair is currently the manager of the Vancouver Kensington office, where she directs the $100M BC Technology Fund on behalf of the BC Government. Her cross-domain career includes more than 25 years' experience spanning the fields of Internet, mobile and digital media technologies, entrepreneurial business, academia, and government policy. Before joining Kensington, she was the founder and CEO of NCompass Labs, the Internet digital content management company acquired by Microsoft in 2001, and the Executive Director of the Centre for Digital Media at Great Northern Way Campus.
Gerri has served on several government and corporate boards including Telus Corporation, BC Telecom, and Ballard Power, as well as Canada's Information Highway Advisory Council and the National Broadband Taskforce. She is currently a member of the Toronto Montreal Stock Exchange Board of Directors (TMX), a director of the Vancouver Airport Authority (YVR), and serves as a Senior Innovation Strategist at Telefonica's Advanced Multimedia Research Lab in Barcelona, Spain.
Gerri is also the recipient of many awards in business, entrepreneurship, and technology innovation, including the YWCA Woman of Distinction award, the Canadian Women in Communications Woman of the Year award, the BC Technology Association Life-Time Achievement award, and the Influential Woman in Business award to name a few.
Valerie Song, BCom'14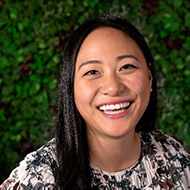 Valerie Song is a passionate and bold leader that loves growing both plants and people. A UBC Sauder grad, Valerie is an ex-consumer package goods brand and sales manager. She found her passion in launching products and building brands from organic granola bars to craft beer. Seeking a company that reflected her own core values, she partnered up with her co-founder in 2016 to invent AVA Byte, the world's smartest indoor garden, to help people get growing.
AVA Technologies Inc. has gone on to raise $2M USD in venture capital funding, $1M in non-dilutive funding, and won 13 awards including TechCrunch Disrupt Top 5 Pick and personally BC 30 Under 30. Outside of work, Val is a speaker and coach, advocating for diversity and inclusion in the workplace, women in STEM, and women in leadership.
Michela Toscano, MBA'12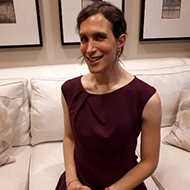 Michela is an entrepreneur and technologist based in Vancouver, BC., where she is principal of IONICA, a site reliability engineering and hosting firm. Michela designed and built their wholly Canadian cloud platform, which Grouse Mountain, Sutton, and the Provincial Health Services Authority, among others, rely on to deliver their web sites and applications.
In addition to delivering outstanding service and invincible technology for their clients, IONICA is dedicated to creating positive social impact. They work to make the world more just, equal, and sustainable, and as part of that mission, the firm donates a significant portion of company profits to charity each year. By the end of 2019, their cumulative donations will surpass $100,000.
Michela holds a master's degree in business administration with specializations in technology and marketing from University of British Columbia, and a bachelor's degree in sociology and psychology from University of Nevada, Las Vegas.