With rapidly changing technology, international markets and global social disruptions (like a pandemic), many organizations are changing their ways of engaging audiences in order to adapt to this new reality and ensure success. This online event will feature alumni working in various unique industries around the globe. Hear how their organizations have undertaken a digital pivot and transformed their business model to accept – and embrace – this new world. Following the presentation you will have an opportunity to interact with the speakers during the moderated Q&A.
Don't miss this opportunity to be inspired by how UBC alumni are navigating this challenging and uncertain time with creativity, flexibility, and determination!
Presented in partnership with Sauder School of Business and the Faculty of Arts.
Panelists
Jesse Aujla, BA'08 – Co-founder and CEO of Experience (Seattle)
Janice Li, BA'15 – Assistant Curator at the Victoria & Albert Museum in London, UK (London)
Catherine Metrycki, BCom'11 – Founder and CEO of Callia Flowers (Winnipeg)
Diana Olsen, BA'91 – President and Founder of Balzac's Coffee Roasters (Toronto)
Thursday, November 5, 2020
10:30-11:45am PST
Open to all. Registration is required.
Questions? Please contact alumni.events@ubc.ca.
Speaker Biographies
Jesse Aujla, BA'08

A UBC Faculty of Arts alumnus, Jesse moved on to become a Chartered Accountant at PwC before founding Experience, an experiential learning company that helps schools around the world internationalize their curriculums with industry focused educational travel programs.
Since the COVID-19 pandemic, the educational travel industry has been turned upside down with large companies going bankrupt. Jesse has led a successful transformation of Experience to a virtual product that is outpacing the growth they had before COVID-19.
Experience pivoted its travel programs to prepare K12 students for the 21st century digital workplace by simulating roles they could play in career pathways. It has been embraced by educators from the US and Europe as an innovative and vital step in the Career Discovery Pathways.
Jesse will share insights into how to analyze products for virtual pivots and the necessary and nice to have ingredients to provide a valuable experience for customers in the current climate.
Janice Li, BA'15

Janice Li is a London-based curator and researcher interested in design and fashion as agents of change, including but not exclusive to their intersectional relations with environmental sustainability, social justice and decolonization. Her passion lies within the interactions and movements between people and the 'things' they wear and use across time and space, particularly in a cross modal and transcultural context.
Janice is now Assistant Curator at the Victoria & Albert Museum, developing its V&A East project, and has previously worked on the exhibition Fashioned from Nature (2018-2019) and catalogued the incoming Royal Photographic Society collection. An alumna of the Royal College of Art, she has curated design exhibitions and commissioned design projects internationally, for instance, at Venice Design (2019), Salone del Mobile, Milan (2019), MoMA Biodesign (2017), Vienna Design Week (2017), Museum für Kunst und Gewerbe Hamburg (2018), Werkraum Bregenzerwald (2018), Gwangju Design Biennale (2019), while being a consultant for the Science Museum, London (2019). She is also a founding member of the Hong Kong Design History Network, currently curating the Hong Kong Pavilion, Sandtable, at the London Design Biennale 2020.
Catherine Metrycki, BCom'11

Callia is a Winnipeg-based tech start-up disrupting the floral industry with the best new experience sending flowers. In just 3 years, Callia's lean business model, coupled with online ordering, an iconic blue box and a price point of just $49, has won a loyal following of customers who love creating Callia moments. Callia is growing rapidly, now in 32 cities across Canada, and was featured on CBC Dragons' Den in 2019.
Catherine is a proud UBC alum, with a Bachelor of Commerce from 2011. After graduating, she spent time in Consumer Packaged Goods with Procter and Gamble as the Canadian brand manager for Gillette Men's Shaving, and then in marketing roles in Manitoba. She's now applying the same principles of a strong, simple brand experience in a "commodity" product with a strong recurring revenue model to the floral industry.
Catherine is passionate about teaching and mentoring, having taught Marketing and Sales in programs at both the University of Manitoba and Red River College. The Callia team, with an average age of 26 years old, continues to foster new grads learning and building great things, start-up style!
Diana Olsen, BA'91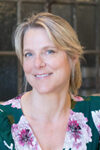 Diana Olsen founded Balzac's Coffee Roasters in 1993 with a vision to connect people through great coffee. A trailblazer for the third wave coffee movement, what she began with a small kiosk and a 12 kilo roaster, has now grown into 17 cafes and 24,000 square feet of roasting and fulfilment operations to supply specialty coffee across Canada for grocery and e-commerce.
Diana is a champion of sustainable business practices and workplace diversity, in particular providing opportunities for women throughout the supply chain from tree to cup.