Frank Warren is the sole founder of the PostSecret Project, a growing collection of over a million artful secrets, mailed anonymously to him on postcards. Known as 'the most trusted stranger in the world', Frank's all new interactive presentation reveals our true feelings about how the pandemic has disrupted our lives, while providing evidence-based tools to aid young people and adults as they navigate through this challenging, but temporary crisis.
Community building, reducing stigma, and asking for help are all discussed in response to the rise in anxiety, loneliness, depression and grief.
67% of young people talk with a friend about mental illness before a parent, teacher or professional. One objective of this presentation is to give students the confidence and knowledge to know how to respond when a friend trusts them with their mental health secret.
In addition to sharing the most extraordinary secrets and inspiring PostSecret stories, participants will also learn from new pandemic related postcards that Frank has received recently. We are all experiencing the pandemic differently, but we are all going through it together.
Presented in partnership with the UBC Okanagan School of Social Work.
Thursday, January 28, 2021
3:30-4:30pm PST
Open to everyone. Registration is required.
Questions? Please contact alumni.events@ubc.ca.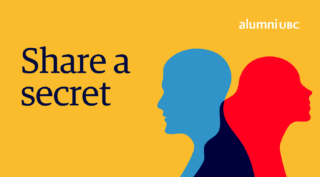 Share a Secret
You are invited to anonymously contribute a secret to a group art project. Your secret can be regret, fear, betrayal, desire, confession, or childhood humiliation. Reveal anything – as long as it is true and you have never shared it with anyone before. A select few will be featured in Frank Warren's live presentation on January 28!
Tips:
Be brief – the fewer words used, the better.
Be creative – feel free to submit an image with your secret.
Speaker Biography
Frank Warren
Frank Warren is the most trusted stranger in America. He's creator of the The PostSecret Project, a place where people share their private hopes, desires and fears. A place where the secrets they could not tell their friends and family would be treated with dignity in a non-judgmental way. The result is PostSecret – a collection of intimately personal and artistic postcards mailed anonymously from individuals worldwide, sharing personal secrets.
The PostSecret website has become a phenomenon earning over 700 million views, the world's largest advertisement-free blog. The popularity of the project and its impact has earned Warren recognition as one of the top five influential people on the internet by Forbes. Warren's books have become bestsellers including the New York Times bestseller, PostSecret: Extraordinary Confessions from Ordinary Lives, and his work has been featured on USA Today, The Today Show, 20/20, CNN, MSNBC, CBC, NPR, George Stroumboulopoulos Tonight. The PostSecret App hit No. 1 on iTunes.
He has delivered keynote addresses around the world at colleges and universities, mental health conferences and major events and was even invited to the White House to share what he has learned about our secret selves. At times hilarious and heartbreaking, the secrets reflect complex issues that many of us struggle with: intimacy, trust, meaning, humor, and desire.
As an advocate for mental health initiatives & suicide prevention, the National Mental Health Association recognized him with a special award. Warren is a volunteer for and actively involved in the organization Hopeline/1-800-SUICIDE.