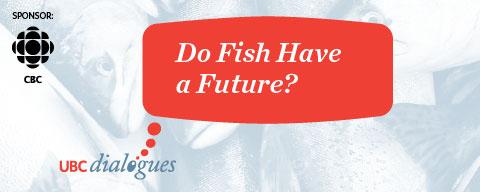 Many believe the oceans now contain just a tiny fraction of the large fish they once held. How do we satisfy the worldwide appetite for fish, while at the same time maintaining stocks for the future? Is there such a thing as 'sustainable fisheries', or do we need a complete moratorium to nurse certain species back to health? Who's monitoring sustainable practices? Where will change come from: new government rules, pressure from advocacy groups or within the industry itself?
Please join us on March 3rd, 2011, for UBC Dialogues: Richmond. Have your voice heard and your questions answered by UBC and community experts.
We will be live tweeting at this event. Follow @ubcalumni and hashtag #UBCDialogues to join the conversation on Twitter.
Panelists
Moderator – Mark Forsythe, CBC Broadcaster
Panelist – Daniel Pauly, MSc, PhD, Professor, UBC Fisheries Centre and Zoology Department; Former Director, UBC Fisheries Centre (2003-2008); Principal Investigator, Sea Around Us Project
Panelist – Christina Burridge, PhD'78, Executive Director, BC Seafood Alliance; Journalist, Food and Beverage Publications
Panelist – Ian Angus, Partner, Finest at Sea Vancouver; Director, Pacific Salmon Foundation
Podcast
Photos
UBC Dialogues: Richmond was held on March 3rd, 2011, at the Gateway Theatre, Richmond.
---
Panelist Bios
Daniel Pauly has (co-) developed concepts, methods, and software to track fish populations worldwide, as documented in more than 500 scientific articles. His methods and sometimes controversial conclusions have been the subject of profiles in Science, Nature, and the New York Times.
He is the principal investigator for the Sea Around Us Project, a scientific collaboration between UBC and the Pew Environmental Group. The project is designed to analyze the impact of fisheries on marine ecosystems, and to create policies to mitigate and reverse harmful trends, while simultaneously ensuring the social and economic benefits of sustainable fishing.
Christina Burridge has been the executive director of the BC Seafood Alliance since 2001, an umbrella group for traditional capture fisheries, seafood processors, marketers and exporters, representing them in advocacy for a profitable and sustainable seafood industry in BC. In November 2010, Christina travelled to Rome to serve as an expert consultant to the United Nations on the topic of ecolabelling of fish and fishery products.
She is also a food and beverage journalist, frequently writing for publications like Vancouver Magazine. Last year, she organized a memorial dinner at the Canadian Chefs Congress in honour of her late husband, the chef James Barber. She obtained a PhD in English Literature from UBC in 1978.
Ian Angus is a partner in the Vancouver locations of Finest at Sea, a boutique seafood company, which operates a fleet of 13 vessels to sustainably catch sablefish, albacore tuna, salmon, halibut, ling cod, rockfish, and spot prawns. It controls the entire process of catching, processing, storing, and transporting its products. Because of its sustainability practices, FAS was able to provide guidance to the Vancouver Aquarium and its Ocean Wise seafood program, which is considered to be one of the premiere ocean sustainability programs in the world.
Since 1993, Ian has been a director with the Pacific Salmon Foundation. It raises money for a wide array of projects dedicated to the conservation and recovery of Pacific Salmon stocks, working with First Nations groups, private companies, all levels of government, commercial and recreational anglers, educational institutions, and non-profit groups.
From 1970 to 1998, Ian worked in the insurance industry, focusing extensively on the marine and fishing industries. He studied political science at UBC.
Ian's best fishing story involves a 60 pound chinook salmon and a 90 minute moonlight battle.