Join fellow UBC alumni for an evening where we'll put a modern twist on traditional networking. Following a brief keynote from HR consultant, Natasha Jeshani, BA'05, job seekers (or those who want to brush up on their skills!) will have the opportunity to meet up to six different professionals for up to 10 minutes to review their resumes, practice their interview skills and learn more about various industries. Following the speed networking portion of the evening, there will be an hour of open networking.
Keynote: HR consultant, Natasha Jeshani, BA'05, will share her insights about how to take a networking "sales" mindset and move it towards a more authentic and genuine conversation. This approach led her to land some of her biggest partnerships and saved her from building others.
Looking for a new job? Register now!
Meet up to six alumni and local professionals from a variety of career fields during the speed networking portion of the evening. You will individually meet with experienced hiring professionals who will review your resume, practice some interview skills with you, or provide general career information. Organizations represented will include: Vancouver Foundation, RBC, PriceWaterhouseCoopers (PwC), Boeing, UBC, STEMCELL Technologies, Indochino, ICBC, Canadian Red Cross and more!
Attendees will be partnered in advance. All attendees will walk away with a broader UBC network, an increase in confidence, and expanded industry knowledge. In addition to introductions, job seekers will also receive a profile book, featuring all the participating Industry Professionals.
Wednesday, October 16, 2019
6:00-9:00 pm
6:00 pm – Registration & Open Networking (A drink and light refreshments will be served)
6:30 pm – Keynote & Speed Networking
8:00 pm: Connecting & Mingling
Jack Poole Hall
Robert H. Lee Alumni Centre
6163 University Boulevard
Vancouver, BC – map
Registration
Registration for job seekers has reached capacity. If you have any questions or wish to be added to the waitlist, please contact Julia Levasseur at julia.levasseur@ubc.ca or 604-822-2035.
A few spaces remain for industry professionals. Please email Nicole Yeasting at nicole.yeasting@ubc.ca for information about how to register.
Speaker Biography
Natasha Jeshani, BA'05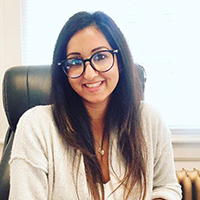 Caring about the companies she supports and the candidates she places – Natasha landed HER dream job when she opened her own HR and Recruitment Consulting Firm and partnered with a team that focused on doing good work with good people.
As a Global HR and Recruitment Consultant and Author, Natasha holds a degree from UBC and an HR Management Certificate, with distinction, from BCIT. Natasha's extensive academic, as well as hands-on experience in various areas of people management, has provided lasting legacies in HR protocols and policies.
As a Technical Recruiter and a true HR Generalist, Natasha's career focuses on delivering high levels of service to leadership, management and employees alike.
As the Author of "The HR Insider: How to land your dream job, and keep it!", which hit #1 on Amazon last year, Natasha has provided a tool for candidates who are interested in the HR perspective, on how to find, land and keep their dream job.
Career Contacts is an extension of Natasha's years of dedication to the HR and Recruitment professions where she supports dream clients in landing dream candidates.