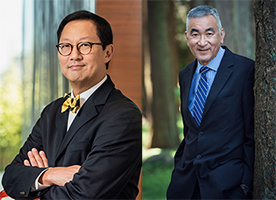 From labour supply and supply chains to technology and trade, COVID-19 has brought forth challenges and opportunities to the agri-food industry. How have different sectors handled the suddenness of the pandemic? What are the positive and negative learnings from the past year and how will the different sectors continue to adjust and respond? Will the pandemic forever change the future of agriculture?
Join UBC President and Vice-Chancellor Santa J. Ono and Dean of the UBC Faculty of Land and Food Systems Rickey Yada as they discuss the future of agriculture with special guests Meeru Dhalwala, Peter Dhillon, and John Stackhouse.
Presented in partnership with the UBC Faculty of Land and Food Systems


Host
Dr. Rickey Yada, BSc(Agr)'77, MSc'80, PhD'84 – Dean and Professor, UBC Faculty of Land and Food Systems
Moderator
Santa J. Ono – President and Vice-Chancellor, UBC
Speakers
Meeru Dhalwala, LLD'16 – Author, Chef, & Restaurateur; Faculty Advisory Board member, UBC Faculty of Land and Food Systems
Peter Dhillon, OBC, BA'88 – Chairman, Ocean Spray Board of Directors; President and CEO, Richberry Group
John Stackhouse – Senior Vice-President, Office of the CEO, RBC
Friday, February 5, 2021
11:00am-12:00pm PST
Open to everyone. Registration is required.
Questions? Please contact alumni.events@ubc.ca.
Speaker Biographies
Meeru Dhalwala, LLD'16

Meeru Dhalwala has been creating recipes and running the kitchens at Vij's and Rangoli restaurants – which she co-owns with Vikram Vij – since February 1995. Vij's has been hailed by the New York Times as "easily among the finest Indian restaurants in the world." She has also written the three Vij's cookbooks. Meeru recently enjoyed being a chef/judge on Food Television Network's "Wall of Chefs".
Meeru is a member of the Faculty Advisory Board of UBC Land and Food Systems and works closely with the Dean on various fundraising and climate change awareness initiatives. She is also a board member of IC-IMPACTS (the India-Canada Centre for Innovative Multidisciplinary Partnerships to Accelerate Community Transformation and Sustainability), a joint project between the universities of British Columbia, Toronto, and Alberta. As well, she is a board member of MOSAIC, an organization that assists new immigrants and refugees to adjust and learn necessary skills for their new lives in BC.
Meeru holds honorary PhDs from UBC and Simon Fraser University for her professional and community work in food, sustainable agriculture and seafoods, and climate change.
Peter Dhillon, OBC, BA'88

Peter currently serves as Chairman on the Ocean Spray Board of Directors. As Chairman, he is an ex-officio member of all Board Committees. He also serves as President and CEO of the Richberry Group of Companies. In 2018, he was appointed to the Board of Directors of the Bank of Canada.
Peter has played an active role on many organizations and boards. He was the director for the Vancouver Airport Authority, B.C. Ferries (where he was also vice chairman), the Canada Customs and Revenue Agency and Atomic Energy of Canada Ltd. He was also on the Board of Governors of Simon Fraser University, the audit committee of the Vancouver 2010 Organizing Committee, the Canadian Olympic Committee, the Vancouver Hospital and the UBC Hospital Foundation (where he was a board member). He was also chair of the Vancouver Branch of Right to Play, an international humanitarian organization for children in communities affected by war, poverty and disease.
Peter is known for giving back to the community with his philanthropic and charitable service, which has spanned a wide variety of important areas including health care, child humanitarian support, education, and sport. He has made significant financial contributions to many organizations including Kwantlen Polytechnic University, the Canadian Red Cross, the Canadian Olympic Committee, Arts Umbrella, and the Khalsa Diwan Society. At the University of British Columbia, he established the Rashpal Dhillon Pulmonary Fibrosis Research Endowment and the Rashpal Dhillon Track & Field Centre in his father's memory. Most recently, Peter established the Peter P. Dhillon Centre for Business Ethics in partnership with the Sauder School of Business at the University of British Columbia.
In 2009, Peter was honoured with The Order of British Columbia in recognition of his achievements and services. In 2012, he was awarded the Queen's Diamond Jubilee medal in recognition for his contributions to his country.
John Stackhouse

John Stackhouse is a nationally bestselling author and one of Canada's leading voices on innovation and economic disruption. He is senior vice-president in the Office of the CEO at Royal Bank of Canada, leading the organization's research and thought leadership on economic, technological and social change.
Previously, he was editor-in-chief of the Globe and Mail and editor of Report on Business. He is a senior fellow at the C.D. Howe Institute and the Munk School of Global Affairs and Public Policy and sits on the boards of Queen's University, the Aga Khan Foundation of Canada and the Literary Review of Canada. His latest book, Planet Canada: How Our Expats Are Shaping the Future, explores the untapped resource of the millions of Canadians who don't live here but exert their influence from afar.