Join Heather McCaw, Vice-President, Development & Alumni Engagement, and Jeff Todd, Executive Director, alumni UBC & Associate Vice-President, Alumni, for a special holiday cocktail reception in Beijing. Enjoy a brief program featuring the co-founder of Kaiterra, Jessica Lam, BCom'10, who will speak about her entrepreneurial journey in China. Then mix and mingle, and take photos, with fellow UBC alumni and friends as we celebrate the festive season.
This celebration took place December 13, 2018, at Hotel Jen Beijing in Beijing, China.
Photos
Speaker Biography
Jessica Lam, BCom'10 – Co-Founder, Kaiterra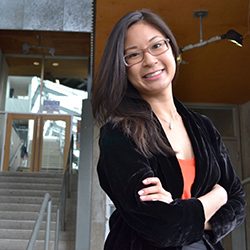 Deloitte alumna and Vancouver native, Jessica Lam is the Co-Founder of Kaiterra, maker of the Laser Egg, one of the world's most popular air quality monitors. In April 2017, Jessica was recognized as one of Forbes magazine's "30 under 30" in the Consumer Technology category.
Kaiterra is a startup committed to giving people more control and ownership of the air they breathe today, and tomorrow. This is done by creating high accuracy air quality monitors for consumers, businesses, and industrial use that are driven by real-time data to help people build and sustain a healthy lifestyle, and ultimately, put an end to dangerous air pollution.
In 2018, Kaiterra introduced the first commercial air quality monitor specifically customized for RESET commercial standards, to provide real-time data for industry experts and leaders like architects, developers, and building managers to optimize air quality control and healthy building design.
Learn more at Kaiterra and connect with Jessica on LinkedIn.
Jessica and Kaiterra were featured in the Summer 2018 issue of Trek magazine.