Forestry has long been one of BC's most important industries, yet the public's perception of it can be far from positive. First, there's the outdated belief that "forestry" means clear-cutting large swaths of trees with no planning for the future. Then there are the negative news stories about mill closures, lost jobs, international trade disputes and mismanagement of local and community forests. But does this reflect the reality in our province? Among its peers, BC's forest sector has the reputation of being the greenest and most progressive in the world.
What does our forest industry need to do to turn around public opinion and prove its value in a technologically-advanced and sustainability-focused society? Join us as we discuss the forest industry and the unexpected ways that well-managed forests can impact our health, our communities and our future.
This event took place November 13, 2012 at the Hotel Grand Pacific in Victoria, BC.
Podcast
Moderator
Luke Brocki, BSc'04 – Freelance journalist
Panelists
John Innes, Dean, UBC Faculty of Forestry; Forest Renewal BC Chair in Forest Management
Doug Konkin, Deputy Minister, Ministry of Forests, Lands and Natural Resource Operations
Garry Merkel, Forest Innovations; Co-Chair, Minister's Forest and Range Practices Advisory Council (PAC), UBC Honorary Alumnus Award recipient 2012
Linda Coady, BA'74, Senior Research Associate, Liu Institute for Global Issues
Speaker Bios
John Innes
John Innes is Dean of the Faculty of Forestry at the University of British Columbia, and also holds the position of FRBC Chair of Forest Management in the Department of Forest Resources Management. He teaches courses in global environmental issues and international forestry. He is Chair of the Commonwealth Forestry Association and an immediate past Vice-President of the International Union of Forest Research Organizations. He is an Honorary Professorial Fellow in the Melbourne School of Land and Environment at the University of Melbourne.
John came to British Columbia in 1999, having previously worked as a Section Head in the Swiss Federal Institute for Forest, Snow and Landscape Research. Since arriving in BC, he has worked on a range of issues associated with forest management. He is actively involved with climate change research, particularly its effects on forest ecosystems and the development of appropriate management strategies for adaptation, in 2007 was part of the IPCC team that shared the Nobel Peace Prize with Al Gore.
As Dean of the UBC Faculty of Forestry, he is encouraging greater international involvement of the Faculty, entrenching its position as one of the leading faculties of Forestry in the world. He has been particularly engaged with China, and has encouraged both an increase in Chinese students studying forestry at UBC, and the application of the Faculty's expertise to the many challenges facing forestry in China.
Doug Konkin
Doug Konkin was appointed Deputy Minister, Ministry of Forests, Lands and Natural Resource Operations on March 14, 2011.  Mr. Konkin previously served as deputy minister for Ministry of Forests and Range, Ministry of Environment and Ministry Of Natural Resource Operations.
Mr. Konkin obtained his Bachelor of Science in Forestry degree from the University of Alberta in 1981.  He also holds a Forest Resource Diploma from the British Columbia Institute of Technology.
Garry Merkel
Mr. Merkel has worked closely with UBC's Faculty of Forestry and First Nations House of Learning to engage the Aboriginal community and increase its presence and influence in both university and industry settings. He has led efforts to attract Aboriginal students and counsel and improve the forest sector's ability to work effectively with Aboriginal communities.
In 1985 Mr. Merkel founded his own consulting company, Forest Innovations, which helps organizations build the relationships and processes required to help them meet their goals. Mr. Merkel has a close affiliation to the land and his work has often involved issues pertaining to land governance. He is negotiator and advisor for the Ktunaxa Nation Council and chair of both the Columbia Basin Trust and Tahltan Nation Development Corporation. Previous positions include manager of Resource Development at Indian & Northern Affairs and director of Lands and Resources of the Ktunaxa Kinbasket Tribal Council.
He has been involved with UBC for more than two decades. Prior to his arrival in 1986, only two students of Aboriginal ancestry were known to have graduated from the Faculty of Forestry at UBC. The faculty sought to address the issue with its First Nations initiative, which aimed to increase awareness of forestry education and career opportunities, develop curricula that respect and reflect Aboriginal cultures, and strengthen relationships between First Nations, the university, and industry.
Under Mr. Merkel's guidance the faculty hired a coordinator of Aboriginal Initiatives and soon afterwards the First Nations Council of Advisors was appointed, with Mr. Merkel doing the bulk of recruitment and taking on responsibility of chair.
Today, the number of graduates of Aboriginal heritage has increased significantly, with enrollment numbers indicating a continuation of that trend, and the curriculum is now more reflective of Aboriginal perspectives. UBC's progress on Aboriginal initiatives is a model Mr. Merkel is helping to encourage further afield. He chaired the committee that developed and supported implementation of national strategies and another that organized an International Indigenous Forestry Education conference, drawing 120 participants from around the world. These are more examples of Mr. Merkel's rare ability to bring people together and make progress on common goals involving different perspectives.
Linda Coady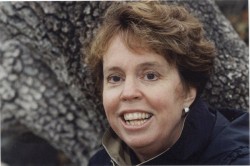 Linda Coady has 25 years of experience working with business, government, Indigenous peoples and local communities and NGOs on social responsibility and sustainability issues in the private and not-for-profit sectors. She has led CSR initiatives in the forestry, mining and energy sectors in Canada and for international NGOs such as World Wildlife Fund (WWF) and the International Olympic Committee (IOC). Linda's work has been recognized with awards from Canadian Business for Social Responsibility, the Ecological Society of America, the World Green Building Council, the YWCA and the Globe Foundation on Business and Environment. From 2010-2012 she was a Distinguished Fellow at the Liu Institute for Global Issues and taught Corporate Social Responsibility  in the MBA program at the Sauder School of Business at UBC.