Pull out those aprons and let's make a delicious mess! This kids' cooking class will be easy, fun, and tasty. As part of Homecoming, we are making Chocolate Chip Financiers (with a jam option). These French brown butter almond tea cakes are delicious and will whisk you off on a European adventure in your own home.
For participants who want to do their own shopping, the recipe will be sent out in advance, as well. Be sure to have your ingredients pre-measured and ready to go for when the class starts.
This event took place September 19, 2021.
Featured Speaker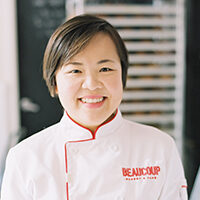 Betty Hung, BA'08
Previously a designer, Betty's passion to create delicious pastries drove her to success. She started at Beaucoup Bakery as an intern and worked her way up to head pastry chef, receiving a Beaucoup Bakery scholarship in Paris where she trained at the famed École Gastronomique Bellouet Conseil.
Siblings, Betty and Jacky Hung assumed ownership of Beaucoup Bakery from founder Jackie Kai Ellis in 2017. In November 2018, Betty published her first cookbook French Pastry 101 with Page Street Publishing. In her book she shares some of her secrets to the baking and makes the art of making French Pastry approachable. Her book won Gold in the Single Subject Cookbook category at the 22nd annual Taste Canada Awards, in 2019.
In June 2021 Betty launched a plant-based line of pastries and sweets. The collection features the same level of creativity, quality, and beautiful flavours Beaucoup is known for, but without dairy. Items include an almond coconut cruffin, gluten-free PB sandwich cookie, and bonbons. You can also follow Betty on her blog called YummyWorkShop, which has followers from around the world.
---