alumni UBC Wine Series
The love for fine wine and art often goes hand-in-hand. Through the blend of Okanagan wine and local art collections, discover the diversity, creativity, and innovation of the Okanagan region of British Columbia. Four Okanagan wineries will lead wine tastings and discuss their passion for the arts including winery art collections, and how art is integrated into their brands.
Presented in partnership with the UBC Wine Research Centre and Faculty of Management at UBC Okanagan



Saturday, September 25, 2021
4:00-5:30 PDT
Open to everyone, ages 19+. Registration is required.
Questions? Please contact homecoming.info@ubc.ca
Featured Wines and Speakers

Kitsch Wines – Kitsch Wines Esther's Block 2018 Riesling
Ria Kitsch, BBA'06 – Co-founder, Kitsch Wines

Mission Hill Family Estate – Mission Hill Family Estate 2020 Reserve Meritage
Graham Nordin, BKin'11 – General Manager, Iconic Wineries of British Columbia

Tantalus Vineyards – Tantalus Vineyards 2019 Pinot Noir
David Paterson – General Manager and Winemaker, Tantalus Vineyards

Terravista Vineyards – Terravista Vineyards 2020 Viognier
Dallas Thor, BSc'00 – Owner, Terravista Vineyards
Nadine Allander – Winemaker, Terravista Vineyards
Moderated by DJ Kearney, BA'84 – Wine Educator, Wine Writer, Judge, Presenter & Chef
---
Purchase the Wine Pack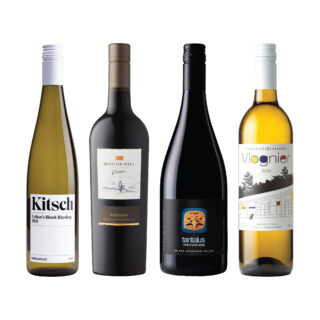 With this exclusive wine pack offer, you will receive the four bottles of wine featured in the virtual wine tasting. This offering showcases the diversity of Okanagan wines and terroir.
Kitsch Wines 2018 Esther's Block Riesling
Mission Hill Family Estate 2020 Meritage
Tantalus Vineyards 2019 Pinot Noir
Terravista Vineyards 2020 Viognier
Wine pack sales are now closed.
---