Whether you're currently looking for a new job or planning for an upcoming change, it is essential you know how your resume is perceived by potential employers. In today's economic environment it is more important than ever to ensure you know what employers are looking for as they select resumes from a stack of applicants.
First, hear Danielle Barkley, Career Educator at the UBC Centre for Student Involvement & Careers, share insights on the questions employers ask themselves as they consider a resume. Then stay online to get direct feedback from established alumni with honed hiring instincts. Participants will virtually share their resume in small groups and learn how it is perceived by potential employers through conversations with multiple established alumni reviewers.
Speaker
Danielle Barkley – Career Educator, UBC Centre for Student Involvement and Careers
Thursday, November 12, 2020
12:00 to 1:00pm PST
Open to UBC graduating students and alumni. Registration is required.
Questions? Please contact alumni.events@ubc.ca.
About the Speaker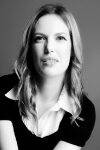 Danielle Barkley is a Career Educator who works with the UBC Centre for Student Involvement and Careers to support students at UBC with career exploration and professional development. She completed her PhD in English literature at McGill University and has previous experience as a university instructor and writing consultant. Danielle is also currently a coach-in-training, pursuing accreditation with the International Coaching Federation, and is a member-at large on the board for the Up in The Air Theatre Company.