In This Issue
University News and Research
Winning Design Unveiled: Central Campus to be Transformed
World Year of Physics: A Canadian TRIUMF
Friends and Colleagues Fundraise in Memory of Surgeon to Endow UBC Chair in Breast Reconstruction
Engage Your Brain: Free Public Lectures
Digital Archives: Search and Read Historical Issues of the Alumni Chronicle, The Ubyssey
and UBC Reports
Alumni & Student News
Illuminating Achievers: Spotlight on Twelve Members of the UBC Community
Mentoring Tales: How One Person Can Make a Big Difference
Alumni Association AGM Marks First Year of Closer Relations with University
Then and Now: Campus Memories
Events and Services
Travel Program: Focus on New Zealand
Get Your (cinnamon) Buns Back on Campus for Alumni Reunion Weekend
Services for Alumni
UBC Online Community
---
University Boulevard Architectural Competition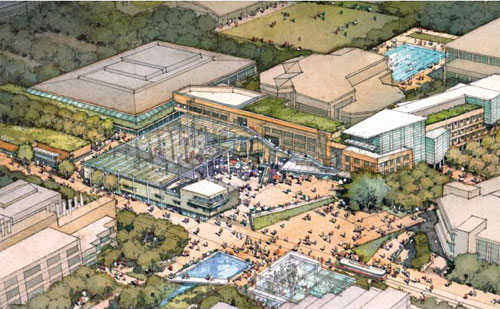 The winners of an international architectural competition to redesign the centrally located University Boulevard on Point Grey campus have been announced. Moore Ruble Yudell Architects and Planners (Santa Monica, CA) with Hughes Condon Marler: Architects (Vancouver, BC) were the successful team.
For a summary of their vision, including an animation, visit the website.
---
The UN named 2005 the World Year of Physics, with activities happening worldwide to mark the field's contributions to society. And with some world class research facilities of its own, Canada can hardly be considered a foot dragger.

TRIUMF is a subatomic physics research laboratory located on Point Grey campus. Its primary feature is the world's biggest cyclotron, a type of particle accelerator. Its electromagnet weighs 4000 tons and has a diameter of 18 metres. The research facilities cater to about 500 Canadian scientists and attract top researchers from other countries.

Some applications of the research carried out at TRIUMF are the treatment of eye cancers, a scanner for specialized brain scans, and the development of numerous high-tech innovations.


Funded by the National Research Council of Canada, TRIUMF is a joint venture involving UBC, SFU, Carleton University, and the universities of Toronto, Victoria and Alberta.

Virtual Tour of TRIUMF

Physics 101 (for the Arts inclined)

 

Above: TRIUMF staff gather on the lower sectors of the cyclotron magnet (1972)
Below: In February of 1976, Prime Minister Trudeau visited TRIUMF. "I don't really know what a cyclotron is but I am certainly very happy Canada has one!" he said.
---
Breast Reconstruction Surgeon Remembered
Dr. Patricia Anne Clugston BSc'81, MD'86, died peacefully on March 1, 2005, at Vancouver General Hospital in the loving company of her husband, friends and family.

(from Dept. of Surgery, UBC Faculty of Medicine website):

"She was instrumental in the creation and growth of the UBC Breast Reconstruction Program, which has treated over 1000 women to date.
To continue the work that Patty did, and to further improve the delivery of this program, we are fundraising to endow a chair in Patty's name in breast reconstruction at UBC. The fundraising goal is 5 million dollars. This will allow the recruitment of a breast reconstruction surgeon who can dedicate a significant amount of time to the administration of the program, educational outreach, research, as well as clinical work.
The first significant fundraising effort will be this year's Scotia Bank run on June 26 in Vancouver. We invite you to join us in the run (walk) as part of the team Dr. Patty's Pals. You can then get pledges for the team which will go to the fund for Patty's chair. Thanks in advance for your support of this very important event."
Alternatively, you can donate online.
For further details please contact Dr. Peter Lennox plennox@telus.net

Patty Clugston: Obituary
---
The Vancouver Institute

The Vancouver Institute is a voluntary organization established in 1916 to act as a bridge between the university and the community. Members of the community are invited to attend free lectures by UBC or visiting academics. Recent topics have included: The Aging Brain; The Romans in Scotland: Their Far Frontier; Albert Einstein's Legacy—Our Best Description of the Universe; Chinese Painting: The Realities Behind the Ideals
Next Lecture:
Second Annual UBC Multiculturalism Lecture
Thursday June 23, 2005
Chan Centre for the Performing Arts (Speaker / Title to be announced)

Most Vancouver Institute lectures take place on Point Grey campus. To learn more about the institute, and to browse upcoming lectures, please visit the website.


Robson Square

UBC's downtown campus at Robson Square also offers free lectures, discussions and readings to the public.
Eye on India: Making Sense of the Fast-Growing Indian Economy
presented by economist and television commentator Shubhashis Gangopadhyay
"India, with more than one billion people, has emerged as one of the fastest growing economies in the world. It is a complex country full of contradictions – home to many of the world's poor yet a dominant player in sophisticated sectors like software and biotech. What sense can we make of the Indian economy?"
For more information, contact: Karen Jew at 604-822-4688
Thursday, June 23rd, 2005
4:00pm - 5:30 pm
Room C130
Free

Talk of the Town
For information on upcoming subjects, visit the Talk of the Town website.
Reading Series:
"The Robson Square Reading Series brings people together for a common purpose: the broadening of minds. In that spirit of diversity, the UBC Bookstore and UBC Library at Robson Square are pleased to present a selection of writers from varying backgrounds with a particular emphasis on new voices. As a university, a centre for learning, it is our intention to foster our next generation of writers, giving them a place to reach out to the community, making a space for sharing, learning and growth."

Next Reading: Canada Day (2)
Bill Gaston and Terence Young
Wednesday, June 29th at 7:00 pm

Bill Gaston, BA'75, MA'78, MFA'81, has published five novels including the critically acclaimed The Good Body and most recently, Sointula. He teaches Creative Writing at the University of Victoria.

Terence Young, MFA'96, teaches English at St. Michael's University College in Victoria and co-edits the Claremont Review. His latest book is the novel After Goodlake's.
---
Alumni Achievement Awards 2005: Twelve Winners

Illuminating Achievement


Award recipients will be honoured at the

11th Annual Alumni Achievement Awards Dinner

Thursday, November 3, 2005
Fairmont Waterfront Hotel.

Watch our website to learn more about this year's award winners and for information about purchasing tickets.

2004 Awards Dinner
Photo Gallery

Alumni Award for Research in Science and Medicine
Pieter Cullis, BSc'67, MSc'70, PhD'72

Alumni Award for Research in the Arts, Humanities and Social Sciences
Steven Heine, MA'93, PhD'96

Alumni Award of Distinction
Michael Ames, BA'56

Blythe Eagles Volunteer Leadership Award
Catherine Ebbehoj, BSN'75, MSN'99

Faculty Citation Community Service Award
Charles Slonecker

Global Citizenship Award
Freddy Abnousi, BSc'01

Honorary Alumnus Award
Henry Skinner
Robert Stewart

Lifetime Achievement Award
George Curtis, LLD'82

Outstanding Student Award
Claire Sheldon, MSc'99
Clara Chia Hua Tan, MSc'02

Outstanding Young Alumnus Award
Cullen Jennings, PhD'02
---
Making a Difference Through Mentoring
The following stories and others appear in UBC Reports, published by UBC Public Affairs.
That Aha! Moment
"A year and a half ago, I was wondering if my degree would be any good once I graduated," says Meghan McLennan, a biology graduate who, like many students, found herself struggling with the transition into the 'real world.'
more...
Duo Share Conservation Research, Friendship
Sarah Foster and Amanda Vincent went on a six-hour bus ride in February 2004 in search of the perfect margarita.
more...
Physics Alum has Clear Image of Future
Helge Seetzen is about to revolutionize what millions of people watch every day -- thanks, in part, to the German military.
more...
"Father" Hanson Coaches On, and Off, Court
Kevin Hanson, UBC head coach, men's basketball, has a master's degree in coaching science from the School of Human Kinetics, Faculty of Education.
more...
Computer Sci Grad Changes Perspective, Discovers Possibilities
Susanne Hille knows choosing a career is no picnic in the park. The UBC IT Services Executive Director learned the hard way but is determined to make things easier for young women.
more...
UBC's Inaugural Graduate Mentorship Awards
Commitment, consistency and continuity are the hallmarks of a successful mentoring relationship, according to two faculty members who have received the inaugural Killam Graduate Mentorship Award.
more...
Looking for a Few Good Women
Spending a year with Naoko Ellis has helped UBC mechanical engineering PhD candidate Dana Kulic solidify her conviction to pursue a career in academia.
more...
Stopping Disease
A combat sport is how UBC bacterial disease researcher Brett Finlay describes the competitive world of science research.
more...
Finding the Voice Within
Twenty-two students from the UBC Opera Ensemble sang in the chorus of Verdi's Un ballo in maschera (the Masked Ball), performed by the Vancouver Opera this spring.
more...
Business Prof Makes Challenge a Winning Experience
When Yosh Kasahara talks to a prospective employer he finds it a huge advantage to show he has "real-world" experience.
more...
Faculty Make Science and Medicine Friendly
A gateway to what the future may hold is how Jane Roskams describes a web-based centre that connects elementary and high school students with university mentoring experiences.
more...
Arts Faculty Launches Tri-Mentorship
Andrea Burgoyne, a theatre major participating in the Faculty of Arts tri-mentorship program, enjoyed her experience at the Granville Island Arts Club.
more...
Pay it Forward: Pharmacy Prof Honours Own Mentor
Driven to discover? Inspired to investigate? For many undergrads, the leap from lecture hall to laboratory can be daunting.
more...
Can't get enough? Subscribe to UBC's E-news services.

Interested in getting involved in mentoring? We're interested in talking with you. Contact Dianna at deblaere@exchange.ubc.ca / 604-822-8917. If you're interested in mentoring online, consider joining the UBC Online Commmunity.
---
Closer Relations Between Alumni Association and University

(Above) Outgoing Association chair Jane Hungerford, BEd'67, passes gavel to new chair Martin Ertl, BSc'93
(Below) Martha Piper thanks volunteers during a reception held at her home.


The Alumni Association held its AGM on June 15th in Cecil Green Park House. It was preceded by a UBC volunteer appreciation reception at Norman MacKenzie House, President Piper's residence.

The year has marked a turning point in relations between the Association and the university.

A key new position straddling both organizations is held by Marie Earl, who was hired as both AVP, Alumni Relations, and Executive Director of the Alumni Association.

In developing a strategic plan for the revamping of alumni services, one of the first things she did was conduct a survey of alumni to find out their thoughts on the matter. Read more in our annual report:
.
Alumni Association Annual Report 2004-2005


"We want alumni to be welcomed and valued as lifelong members of the UBC community, and we want you to contribute and benefit from the university's achievement and ambitions."
— Martin Ertl, BSc'93, Alumni Association Chair

.
---
The photograph to the left shows the Main Library concourse shortly after the library completed construction in 1925.

In 2002, the same space was used to create the Chapman Learning Commons (bottom left) — a gathering and study spot for students, faculty, staff, alumni and the wider community. Users can chat, surf the Web, study and access the library's online and other resources. The space is designed to encourage interaction and the Dodson Room, located just off the main space, is regularly used for concerts and seminars.

Original building features, like the stained glass windows, are still intact, but the feel is less formal and the technology has advanced somewhat. The hard-backed wooden chairs and tables have been replaced with computer stations, comfortable armchairs, and coffee tables.

At the hub is the information desk, where users can get access to and advice about information and learning technologies.They can borrow laptop computers to use in a wireless system that now extends outside to cover the space between Main and Koerner libraries.

The Learning Commons will be closed until late next year until the second phase of the Irvine K. Barber Learning Centre is completed. This centre is replacing the two old wings of the library and will allow it to expand services and program and offer wider access to them for the citizens of British Columbia.

Above: Main Library concourse in the 1920s (photo courtesy of UBC Library Archives) Below: The Chapman Learning Commons today (photo by Perry Danforth)
---
More than 800 alumni have travelled with the UBC Alumni Travel Program. Our travel partners, Intrav and Alumni Holidays International, provide the highest quality service in luxurious, educational travel.
Navigating New Zealand's North & South Islands

This trip takes in New Zealand's lively urban centers as well as the country's magnificent natural areas on a cruise aboard the elegant Clipper Odyssey.

It kicks off with two days in Queenstown and a hat-holding jet boat ride on the Shotover River through some of the loveliest scenery in the world. The pace then slows down, allowing ample time to absorb the North and South Islands' breathtaking bays, spectacular national parks and nature reserves, and abundant wildlife (including dolphins, colonies of Royal Albatross, and rare Yellow-eyed Penguins).

A group of experts is on hand to enhance understanding and enjoyment of this fascinating region.

For more Information on the New Zealand trip, please contact Intrav at 800-456-0020 or the Alumni Association at 604-822-9629 / 800-883-3088 / karen.kanigan@ubc.ca

Too many sheep, not enough people? For a getaway to suit your tastes, explore our
2005 Travel Line-up.
---
Alumni Reunion Weekend will be held Sept 30–Oct 2, 2005. Come back to campus and help celebrate UBC's 90th birthday! New events for this year include a "Monte Carlo" casino night; a lecture by the renowned Dr. Brett Finlay on his groundbreaking work on E.Coli and SARS vaccines; Thunderbirds Vs. U. Calgary football; and a self-guided campus race involving plenty of zany challenges. Why not see if your class is holding a reunion...?

With more than 200,000 UBC Alumni, it's likely there'll be other grads living in your area. The Alumni Association oversees a network of alumni branches that helps grads stay connected with each other and with their alma mater.

You can check our web calendar for upcoming regional events, reunions, and more. Look out for information on summer student send offs in your area. Alumni are invited to attend and impart words of wisdom to fledgling students: Hong Kong, Shanghai, Beijing, Singapore, Seattle, San Francisco, Calgary, Toronto, Kelowna, Victoria, and Nanaimo....

Get your buns back on campus for Alumni Reunion Weekend
---
Alumni Services

Graduation from UBC means automatic membership in the Alumni Association -- and membership has its privileges.
| | |
| --- | --- |
| | With the purchase of an ACard for $32.10, UBC alumni are entitled to discounts on campus attractions such as the Museum of Anthropology and the Frederic Wood Theatre; discounts on local services; and a Library Community Borrowers Card at no cost ($100 value). |
| | Alumni can take advantage of special rates on insurance, credit and financial services. |
| | UBC's Online Community has been redesigned. Why not join (it's free) and stay in touch virtually with your classmates and alma mater? Check it out for relocation advice, networking, and more. |
---
The Grad Gazette is brought to you by the UBC Alumni Association, which provides services to all University of British Columbia grads. To stop receiving the Grad Gazette, or to provide comments or suggestions, please send a message to vanessa.clarke@ubc.ca. In the subject line of the message enter: unsubscribe grad-gazette. In the body of the message, enter your full name.