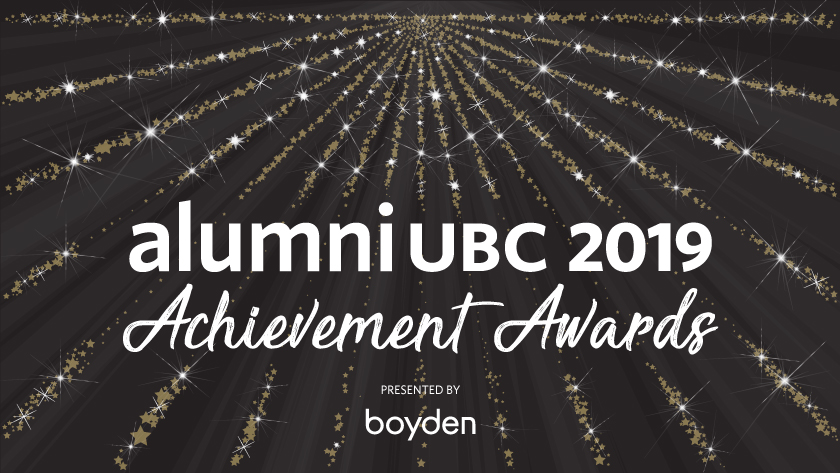 UBC alumni are committed to an exceptional UBC and to changing the world. The 2019 alumni UBC Achievement Awards, presented by Boyden, honoured inspiring members of the UBC community who, through their extraordinary endeavours, have demonstrated this vision.
Due to the COVID-19 pandemic, the 2020 Awards will be postponed to 2021. If you have questions about this process, please contact Deanna at deanna.kayne@ubc.ca.
The 2019 Recipients
Dominic Barton, BA'84, LLD'12 – Alumni Award of Distinction
Dr. Barton is global managing partner emeritus, McKinsey & Company, having served in that role from 2009 to 2018. He has much experience helping organizations across the private, public, and social sectors to set direction and drive change. He is one of the founders of FCLT Global (Focusing Capital on the Long Term), a non-profit organization to encourage long-term economic thinking and safeguard the interests of individual savers and communities. A prolific writer who emphasizes the role business leaders can play in positive social outcomes, Dr. Barton has co-authored four books, including most recently Talent Wins, published in 2018. He serves on government economic advisory boards in Singapore, and in Canada, where he is the chair of the Minister of Finance's Advisory Council on Economic Growth. In September 2019, Dr. Barton was appointed as Canada's ambassador to China.
Douglas Clement, C.M., MD'59 – Faculty Community Service Award
Dr. Clement is a committed and innovative advocate for community health. His pioneering career as a researcher in the emerging field of sports medicine led to his co-founding the first sports medicine clinic in Canada. He was an early advocate for exercise as a key to preventing heart disease, and translated his medical knowledge into action as chair of the board of the Heart and Stroke Foundation. He also taught sport medicine at UBC for more than 20 years. Dr. Clement is a former Olympic athlete who inspires community spirit through sport as a track and field coach at UBC, as president of the non-profit Achilles Track and Field Society, and as co-founder of the annual Vancouver Sun Run.
David Morley, C.M., MEd'08 – Global Citizenship Award
Mr. Morley is the president and CEO of UNICEF Canada. He brings to this role more than 40 years of experience in human rights and community development, including his leadership of organizations such as Doctors without Borders Canada and Save the Children Canada. Leveraging his voice as an author, speaker, and educator, Mr. Morley has long advocated on behalf of those in need. He is known for his exceptional leadership and his commitment to addressing humanitarian issues such as HIV/AIDS, gender equality, access to education, and maternal health. In 2018 he became a Member of the Order of Canada.
Deborah Buszard – Honorary Alumni Award
Professor Buszard is a visionary champion for UBC Okanagan with a talent for forging productive community partnerships, notably with the City of Kelowna and the Okanagan Nation Alliance. As deputy vice-chancellor and principal, her many contributions include leading successful efforts to double research funding, increasing access to educational opportunities  for Aboriginal students, and the promotion of a healthy environment in which to work and learn. Both the university's reputation and the Okanagan region have been strengthened by her tireless leadership, and by her respected scholarship as a plant biologist and environmental scientist.
John MacDonald, O.C., BASc'59, DSc'89 – Research and Innovation Award
Dr. MacDonald is a pioneer in Canada's high-tech industry. His novel use of satellites to produce high-resolution images of Earth is what made ubiquitous technology like Google Maps possible. Dr. MacDonald's company, MacDonald, Dettwiler and Associates Ltd. (now Maxar Technologies), was also involved in developing NASA's Canadarm, an iconic remote-controlled robotic arm deployed on the Space Shuttle system. Ever the entrepreneur, Dr. MacDonald emerged from retirement in 2001 to contribute to the growth of BC's thriving clean technology sector by co-founding the successful solar energy company Day4 Energy Inc.
Gwendolyn Point, BEd'87 – Volunteer Leadership Award
Dr. Point of the Sts'ailes First Nation is an educator, scholar, healer, knowledge keeper, cultural advisor, and leader. Her commitment to revitalizing and sharing Stó:lõ language, knowledge and practices has had transformative impacts on her communities. With an emphasis on children, families and education, Dr. Point's exceptional history of service includes numerous public roles in the Stó:lõ Nation and in the provincial government. She is known as a "bridge builder" across Indigenous and settler communities – one whose eloquence, personal strength, passion for education, and spiritual leadership inspires healing.
Tara Cookson, BA'09 – Young Alumni Award
Dr. Cookson is a distinguished anti-poverty activist, author, and scholar of gender equity and social policy. Her research at the University of Cambridge, where she was a Gates Scholar, contributed greatly to subsequent policy debates by revealing that aid programs intended to alleviate poverty can actually place oppressive burdens on vulnerable mothers. Dr. Cookson went on to co-found Ladysmith, a feminist consultancy that rigorously collects and analyzes gender equity data for international development and humanitarian organizations like UN Women, UNICEF, and the OECD. She is continuing her analytical approach to tackling inequality as a research fellow at UBC.