Continue Your Passion for Learning
Go beyond the bucket list for unique travel experiences
Expert UBC study leaders
Meaningful local experiences
Thoughtful itineraries
Best value in educational travel
Find your next travel experience
Active & Wellness | Nature & Wildlife | Food & Wine | Arts & Culture
BROWSE TRAVEL OPPORTUNITIES & REGISTER hERE*
You will be directed to the website of our partner, Worldwide Quest.
*View the Flexible Booking Policy and Travel Safe Guidelines
Explore the 2021 digital catalogue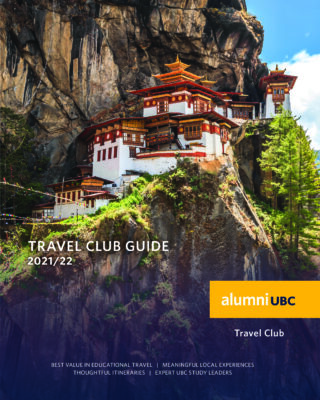 Sign up for the Travel Club newsletter
Be the first to know about upcoming trips!
Upcoming Travel Club Webinars
Ecology of the Galapagos Islands with Chris Harley
Tuesday, April 20, 2021, at 11:00 am PDT
The Rise of Malbec Wines from Argentina with Howard Soon
Thursday, April 22, 2021, at 4:00 pm PDT
An Immersive Culinary Adventure Through Umbria
Thursday, April 29, 2021, at 4:30 pm PDT
Recent Travel Club Webinars
Get Fit for Home and Travel with Stretches and Healthy Snacks, with fitness coach and walk leader Marisa Mae
Join Marisa to learn the best stretches and core exercises and prepare delicious protein bites.
Explore the World's Largest Buddhist Temple - Indonesia's Borobudur Temple with UBC lecturer Paula Swart
Join Paula for a fascinating look at one of the world's iconic monuments.
More webinars are coming soon. Stay tuned to the alumni UBC Travel Club newsletter for more!
Need Travel Insurance?
For travellers residing outside of Ontario, Manulife Travel Insurance is now available through alumni UBC. Please click here for more information and to protect your travel investment.
Questions about the Travel Club?
Please contact Karen Kanigan at karen.kanigan@ubc.ca or (604) 822.9629.