Unique Travel Experiences
Indulge your curiosity as we take you to unique places you've always dreamed about. The UBC experts and knowledgeable local hosts you'll be traveling with will provide context that allows you to develop a deep connection to the people you meet and the cultures, cuisines, and landscapes you're exploring. Travel with us and go beyond the bucket list!
Travel Club sneak peek for 2019-20
We're always working to find new and exciting experiences to offer our alumni travelers. In the coming year, one of our areas of focus will be on wellness and active travel opportunities. Here are a few of the active travel experiences we're thinking about for 2019-20.
Find your next destination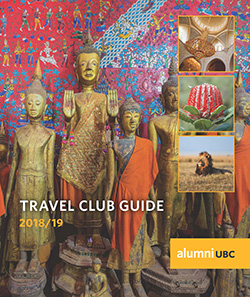 view the 2018/19 Travel Club guide
*You will be directed to the website of our partner, Worldwide Quest.
Sign up for the Travel Club newsletter
Be the first to know about upcoming trips!
Questions about the Travel Club?
Please contact Karen Kanigan at karen.kanigan@ubc.ca or (604) 822.9629.